A Son of FPU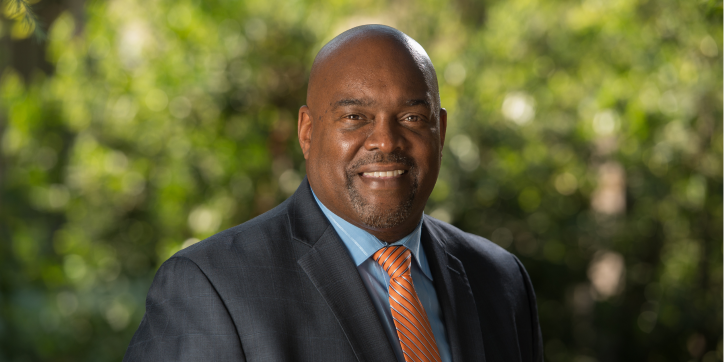 A Son of FPU
Angulus Wilson
1989 BA in Social Work
Fresno University Pastor at Wheaton College
"This wasn't my career path."
Angulus Wilson didn't plan on a career in Christian higher education. After graduating from Fresno Pacific with his B.A. in Social Work in 1989, he pursued a career in law enforcement. But while working as a probation officer, he became exposed to the teachings of Rev. Billy Graham. They ignited a new passion: to serve the Lord.
Working with local churches as a probation officer, he says, "I began to do preaching and teaching assignments, which ultimately led me to Billy Graham."
His newfound passion led Angulus to Graham's alma mater, Illinois' Wheaton College, where he received a scholarship to study evangelism in urban contexts and earned an M.A. in Spiritual Formation and Evangelism. Eventually, he directed the Institute of Prison Ministries for the Wheaton College Billy Graham Center.
Returning to FPU in 2008, Angulus served as the dean of spiritual formation and chief diversity officer. His 14 years at FPU coincided with a period of growth for the university.
"When I was [a student] at FPU there were maybe 800 students," he says. "To come back and serve five regional campuses and a student body of over 2,000, it's just phenomenal work God has done."
During his tenure at FPU, Angulus says he was responsible for the organizing and founding of university-wide chapels, the development of Manna Moments (a "virtual" chapel experience) and working with a diversity committee to "establish kingdom diversity programming across the depth and breadth of the university." He notes that in this context, "diversity" takes on various meanings, including "international students coming in and integrating, racial and gender diversity and physical diversity."
Within the Central Valley's higher education community, he adds, FPU's diversity is also marked by its integration of faith with learning—and others have taken notice.
"Fresno Pacific has definitely branded herself and given herself a name on the West Coast, and people here in the Midwest know of her," Angulus notes. "She has carved out her own niche in Christian higher education."
Wheaton College, founded in 1860, has long enjoyed a high profile as a faith-based institution of higher learning. Comparatively, FPU is much younger. However, Angulus points to similarities that have made his transition from FPU to the Wheaton feel like a natural step.
"While I'm embracing the challenges in higher education that the Midwest brings," he says, "there are strong similarities in the Anabaptist community and the evangelical community centered in Wheaton.
"Fresno Pacific has a very diverse student body and faculty, and I find that same diversity exists here at Wheaton College. It's very similar in that sense. Having been university pastor at such a large school with such a diverse student body has made my transition here easier," he says.
As he begins his work at Wheaton College, Angulus recognizes his time at FPU—first as a student, and later as its pastor—as foundational in preparing him to take this next step: "I see the lessons I learned at FPU here," he says. "Pacific was truly instrumental in preparing me to serve Wheaton College in this capacity. None of this would have happened had I never been exposed to the Fresno Pacific Idea and calling of Christ and his Kingdom."
And though Angulus may be thousands of miles away, he says FPU is never far from his thoughts. His wife and two of his three sons are FPU graduates, and he thinks of Fresno as home.
"I love it," he says. "I look forward to engaging as alumni there. Go, Sunbirds!"
Not receiving our monthly Alumni eNews to your inbox? Sign up here.