From Mentee to Mentor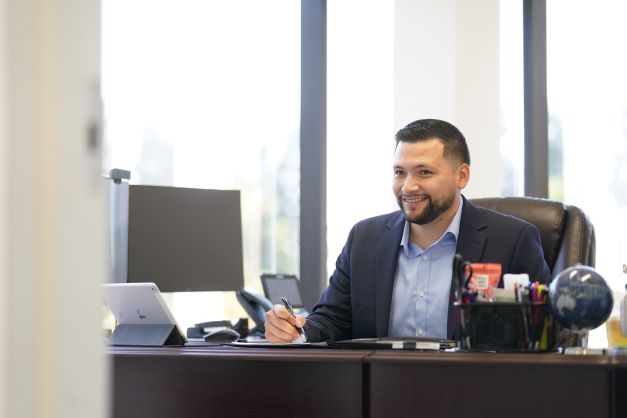 From Mentee to Mentor
Robert Perez, CPA
2019 BS in Accounting
Senior Associate at Boos & Associates, Certified Public Accountants and Consultants
When Robert Perez started his professional career, he not only took with him two benefits from FPU—smaller classes and closer connections with professors—he found a way to pass them on to others in his firm.
Robert credits the mentorship he received from his professors in helping him make the shift from student to professional, and today mentors interns and new employees as business development manager at Boos & Associates.
As an accounting major, Robert juggled his studies with a sales job at Fresno's Clawson Honda, where he honed his sales and customer service skills. This real-world experience, combined with his coursework and those connections with faculty, set him up for his next professional step. After a summer internship with the San Jose office of PricewaterhouseCoopers, Sylvia Kim, Ph.D., associate professor of accounting, encouraged him to consider Fresno-based Boos & Associates, where she is the tax director.
"It's quite rewarding," Robert says of his work with those early in their careers. "I find it easy to relate to them because I only graduated three and a half years ago. I think some of the interns relate to that."
At Boos-hosted student information nights, he says, "I constantly talk to students. We go over their personal goals in school, their professional goals. That's something I think we're good at. That's something we like to emphasize, building people relationships rather than just work relationships."
Robert is also honest with interns and new employees about the workload. Preparing to take professional certification exams is time consuming, and during tax season, he says, it's not unusual to put in 80-hour work weeks. He says new graduates who had jobs during college already have a "leg up" as they begin their careers, and that working two jobs as an undergraduate helped prepare him for the rigor of a full-time job in a demanding industry.
"It's preferable to pass all your CPA exams right after college," he notes, "so I would study and it felt like I was still in school. That's something I really emphasize: you've got to pass those exams. I'd get out of work and then study from 6:00 to 11:00 p.m.; on weekends I would study. It's not easy but it really is rewarding once you get those credentials.
"I know it's hard to work part-time, much less pay tuition," he adds. "I've helped some interns figure out how to plan, [I tell them that] if you're willing to work a little bit more, that can help."
It all comes back to relationship building, which Robert says he learned at FPU. Professor Kim's encouragement gave him confidence as he pursued his career, he says. "Talking to my professors about what I was contemplating was my first encounter with professionalism and people in different careers. The Bible studies were completely different from what I studied, but to this day they're some of my favorite classes I took and the professors I'm closest to. FPU has a culture that made me comfortable to ask questions and talk to people."
Interns and new employees aren't supposed to know everything and learning on the job is part of the process, Robert says. This advice is relevant for everybody entering the workforce, whatever their field.
"Ask questions, feel free to speak to your managers," he says. "I think some students are afraid they'll be looked down upon, but we emphasize it's okay. You're not supposed to know everything. There's a huge difference between what you learn in school from textbooks, and what you learn in the work environment."
Robert is also featured in this fall's Pacific magazine. You can read that article here: fpu.edu/robert-perez.
Not receiving our monthly Alumni eNews to your inbox? Sign up here.