A gift and calling to care for children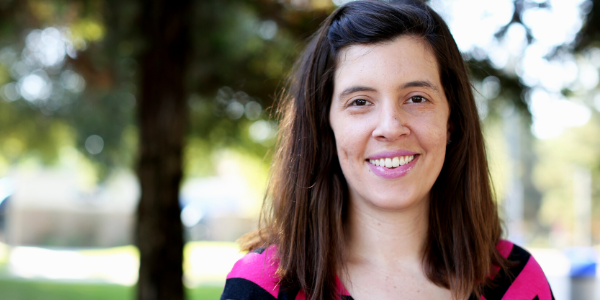 A gift and calling to care for children
Vanessa Bailey
2008 BA in Early Childhood Development
Faculty at College of the Sequoias, Consultant for WestEd and Continuing Education Instructor at FPU
Vanessa Bailey was just a child when she recognized that children were her calling in life.
A Fresno Pacific alum who teaches in the university's Continuing Education program, Vanessa is a 20-year veteran of early childhood education. She's been a nanny, instructor, consultant, foster parent, preschool worker, mother and more.
"I'm one of those people who knew in third grade what I wanted to be in life," says Vanessa, who earned a Bachelor of Arts in Early Childhood Education from FPU and a master's in the same field from Brandman University. "I just have known it's my gift and my calling."
Today, Vanessa shares that knowledge at Fresno Pacific in a Continuing Education class designed to help educators teach early math skills. She informs her work partly with the lessons learned from a decade as a foster parent.
"Fostering—aside from my own kids—is really where all my stories come from," says Vanessa, who is married and the mother of five. "You name it, you kind of see it all when you foster."
Teaching, shepherding and caring for children has long been Vanessa's focus. The oldest of four, she grew up in Hanford and was home-schooled with her three brothers.
After graduating from high school at 15, Vanessa went on to Visalia's College of the Sequoias. She earned her associate degree at 17 and then took a few years off to enter the workforce and take a major cross-country detour.
"I didn't have anything holding me back or holding me down here," she says. "I wanted to travel and see something else."
So Vanessa took a job as a live-in nanny in New York. "I feel like those experiences are some of the ones that helped me to be a good mom," she says.
After a few years, Vanessa was homesick for the Central Valley. She returned to Fresno Pacific and its then-fledgling degree completion program, graduating in one of the first cohorts in 2008.
Vanessa remains in touch with many of her classmates. "There's just something about those relationships that you build at a Christian university that is different," she says.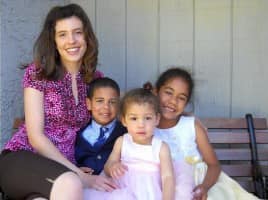 At the same time, she was building relationships as a foster parent—a calling she embraced while still single. When she met her husband, Justin, Vanessa told him that "if you're signing up for me, you're signing up for kids—I've already got them."
Justin wasn't phased and "jumped right into the swing of everything I had going on in my life," she says. They married in 2011 and now have five children, including two foster children adopted by the couple.
Altogether, Vanessa has fostered more than 50 children—some for just a weekend, and others for up to 18 months. "Once we got hooked on it, it just became routine and part of our life," she says. "It's just what was normal."
The couple learned plenty about parenting and behaviors and also about grace. Initially, Vanessa said, they could be subconsciously judgmental about parents who lost their children. The couple learned they could love both the children and the parents, and "it almost became a ministry opportunity for us," she says.
As the couple's children became older, however, having foster children became more difficult, Vanessa says. Those temporary stays could be challenging partly because the children formed such close relationships with each other.
Eventually, the couple decided to devote time and energy to their children, now ranging in age from 3 to 15. Still, the family remains in touch with many of their foster children, and the relationships live on in a coffee table book of memories.
"No matter how long you have them, they impact you and you remember them," Vanessa says. "They're just all unforgettable in their own way."
Vanessa carries those fostering experiences into the classroom. She is overjoyed to return to Fresno Pacific, calling it "a dream that I didn't think I'd ever see come to fruition because it's so competitive. I'm so blessed that it finally did."
In addition to Fresno Pacific, Vanessa works at the College of the Sequoias, where she chairs the Consumer and Family Studies Division and is a member of the childhood development faculty. She also consults for WestEd, a nonprofit educational research, development and services agency, traveling the state to provide mental health and behavioral support in preschool programs.
"If there is a common theme in the classroom, it would really be not to underestimate any child," Vanessa says. "Certainly fosters, when they come, it feels like there's a lot of baggage and there's a lot of things to deal with. But we were just consistently amazed at how resilient kids are and how positive they were."
Learn more about Vanessa's online courses through FPU's Continuing Education: ce.fresno.edu/instructors/vanessa-bailey/
Not receiving our monthly Alumni eNews to your inbox? Sign up here.