From an "Unjust" Imprisonment to a Fight for Justice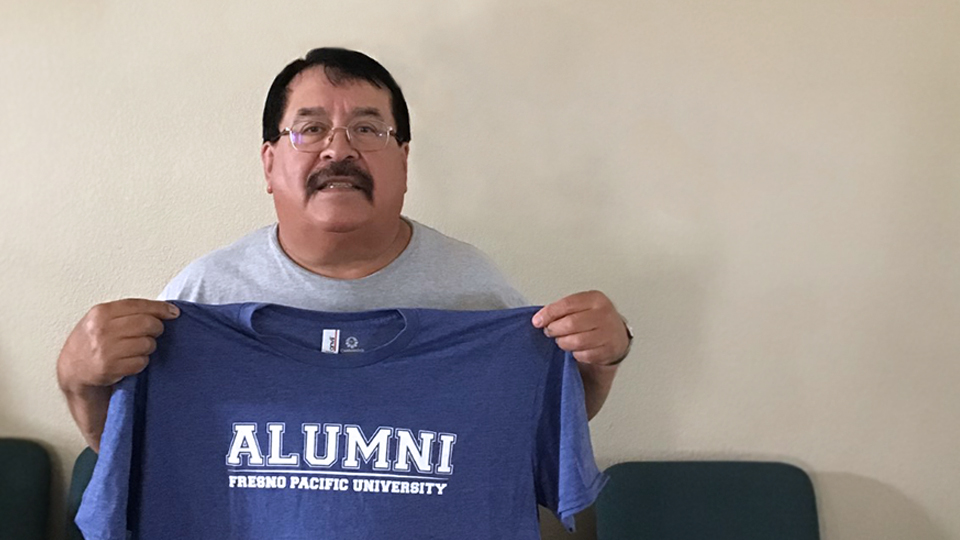 From an "Unjust" Imprisonment to a Fight for Justice
Jesse Gonzalez
2013 BA in Criminology and Restorative Justice
2015 MA in Leadership Studies
2017 MA in Peacemaking and Conflict Studies
Founder and Director of Pinto Reconnect
Using an "unjust" imprisonment as fuel for his passion for restorative justice, Jesse Gonzales brings hope to people retributive law has victimized.
Jesse experienced retributive law firsthand while studying to become a teacher in Kerman Unified School District. After a woman approached him with an offer to make money selling drugs to students, Jesse, appalled, reported the woman to school officials. Without evidence, they could not act, so Jesse kept an eye out. When he saw the woman passing out paper bags to students in the parking lot, he took pictures. The woman threatened to make trouble for him, but Jesse refused to back down. Next day he was arrested for "stalking."
The judge was sympathetic, Jesse said, but told him the law defined Jesse's actions as stalking and sentenced him to three years of prison. Then, to add to the irony, the court used the very pictures that had convicted Jesse to put the drug-dealer behind bars as well, validating his actions while simultaneously punishing them.
"If I have to go to prison for taking a stand on what I know is right, here are my hands. Show me the way, I'll go," Jesse says.
During his imprisonment, Jesse kept his faith in God and became a spiritual leader for other inmates, reading Scripture and leading religious classes. Additionally, noticing groups such as Muslims and indigenous peoples could not practice their faith, he wrote letters to persuade the people in charge to make accommodations. He succeeded and today those groups can practice their faith in that particular prison.
"In God's infinite wisdom, maybe I was sent there for a purpose—to restore. And restoration, reconciliation, is a part of the restorative justice theology," he says.
After serving his time, Jesse used his experience as motivation to fight against unjust, retributive laws in the Central Valley, earning a B.A. in Criminology and Restorative Justice and M.A.s in Organizational Leadership and Peacemaking and Conflict Studies at FPU and starting Pinto Reconnect, a nonprofit organization that reaches out to ex-convicts, U.S. veterans, undocumented immigrants and others with vocational training, marketable skills and words of comfort.
"I promised myself that, in a peaceful way, an intelligent way, I would do everything that I could to minimize the criminalization of innocent people," Jesse says.
In one branch of Pinto Reconnect, Central Valley Creations, Jesse puts people society calls "broken" or "discarded" to work constructing valuable objects out of literally broken and discarded items. These creations include backyard bars, decorative archways, patios and more. Constructing useful things with their own hands for their whole families to enjoy shows the makers they, too, have worth and value. This is just one of many ways Jesse uses his organization to restore those downtrodden by retributive law.
Jesse has also worked for another organization, Pacific Educational Services (PES), since 2013, when they reached out to him with a job offer. PES is dedicated to offering restorative justice as an alternate solution to incarceration for those who suffer under retributive law, giving the convicted a chance to avoid permanent criminalization and the consequences that come with it. Jesse leads several classes and translates important documents for PES, applying Mennonite principles such as forgiveness and restoration to his work.
The skills Jesse learned at FPU are pivotal in the work he does today, and he is still grateful for the support and encouragement his professors offered him.
A husband and father of five, Jesse lives in Kingsburg, California, but spends most of his time on the road. In his words, "Peacemakers have a home wherever there is conflict."