Educating Students Near and Far
Educating Students Near and Far
Elaine Yanez
2017 Multiple Subject Teacher Credential
2013 BA in Social Work
Second Grade Teacher at Malaga Elementary
Building relationships with students inside and outside the classroom is Elaine Yanez's mission as a second-grade teacher at Malaga Elementary.
As a child, Elaine struggled with her home life, but found she could confide in her teachers. They were the vessels that ultimately led her to value education and dream of one day going to college. Elaine's life was and continues to be positively impacted by her sixth grade student-teacher, Char Jones, who mentored and invested in her. Char and her husband, Jeff, both FPU alums, took Elaine under their wing and supported her. The love and passion they poured into her lit a fire in her heart to improve the lives of the children who walk into her classroom. "God has called me to teaching, and I strive to love, invest in and educate my students to the best of my abilities. They are worth everything and more," she says.
During Elaine's first year of teaching, she bonded with all her students—her "ducklings"—but a deeper relationship with one led to an invitation to that student's baptism. Earlier this year, this former student's mother asked Elaine to keep supporting her daughter. Although Elaine is no longer this student's teacher, she continues to stay in close relationship with her former student and her family.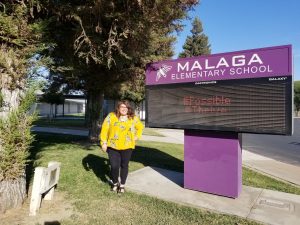 Acts like this are part of what earned Elaine Malaga's Teacher of the Year recognition after her very first year of teaching in 2017-2018. Elaine has completely fallen in love with the community of Malaga. She feels God has placed her in the community to build relationships and community within her classroom and her school site. "Malaga is a unique place in which students, families, community and education are of the utmost importance. Malaga has my heart," she says.
This past summer, Elaine's passion for teaching led her to Thailand, where she volunteered with the Akha Youth Development Center (AYDC). AYDC is a Christian-based organization providing children from the Akha indigenous group with housing and education to stop the cycle of poverty and opium addiction in the area. The center empowers children with the love of God, an education and the opportunity to, like Elaine, reach their dream of attending a university and having a career that allows them to give back to their communities. "We want to support [AYDC] in their mission of educating students and helping them see that there is more, and that it doesn't have to be a cycle…and also getting to know who their God is," Elaine said.
She gave English lessons during the 2.5-week stay, using the story of the Thai athletes stuck in a cave as a basis for the instruction. The children were shocked a story from their area had spread worldwide! Just as with her students at Malaga, Elaine quickly fell in love with her students and had a hard time leaving. She said a piece of her heart remains in Thailand and with the sweet children who she cannot wait to return in two years.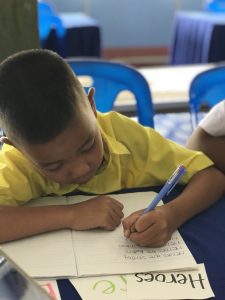 Elaine says that she owes everything she's doing now to Jesus, her calling to redemptive service and FPU's mission. Fresno Pacific University played a vital role in equipping Elaine spiritually, mentally and professionally for her calling as a teaching. Although she felt lost when she first arrived as a student, teachers and mentors supported Elaine in her education and her relationship with God. This love and guidance encouraged Elaine to go into teaching, something she had never even considered before FPU. Today, she still connects with professors and mentors and feels the FPU community continues to pour into her call of teaching, thus continuing to enrich the education of her students. Among them is her former teacher education mentor, Tamaye Ota, assistant professor of education. Ota also teaches lessons and reads to Elaine's students and builds relationships with them and the community of Malaga.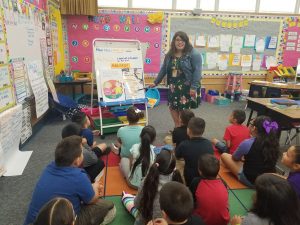 Ultimately, FPU isn't just the place where Elaine earned her B.A. in Social Work, became the first college graduate in her family and earned her teaching credential—it is a place she feels puts God's mission at the forefront of education. FPU is her home.
"No matter what question I had, no matter what concern I had, whether it was a student, whether it was a professor, I felt like I wasn't just a number. I had a name, and I was valued," she concluded. As Elaine's life was changed by teachers and her education, she is now changing lives in the next generations as a teacher.
By Francesco Parisi (current student)
Not receiving our monthly Alumni eNews to your inbox? Sign up here.