Making Sense of Life Through Art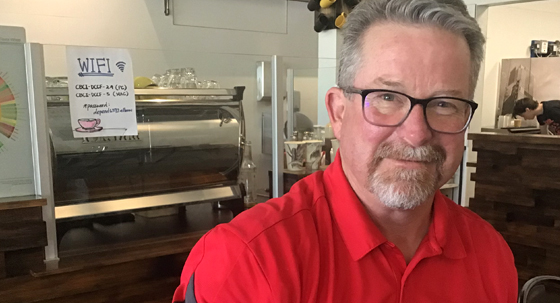 Making Sense of Life Through Art
David Hembree
1980 BA in Art
Director of Development for Student Affairs and Enrollment Management, California State University, Fresno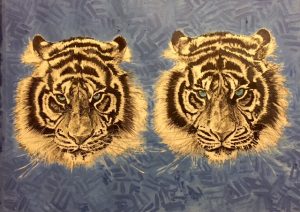 From childhood to college to a career as director of development for student affairs at Fresno State, David Hembree has always found time to hone his skill as an artist.
David creates both traditional and abstract pieces, many of which are influenced by his small, rural hometown of Avenal, CA. For example, his traditional piece "Wrangler Bronc" features a realistically drawn rodeo scene, while his abstract piece "Red Man Dark Horse" shows the silhouette of three Native Americans before a stylized, contextless red background. "I'm exploring…reality and myths of the West. I'm trying to make sense and meaning of my culture," he said.
David grew up watching his mother illustrate Sunday school characters, and the affirmation her drawings received inspired him to follow in her footsteps. In junior high his environmental conservation scene won a local oil company's poster contest, and a few years later he won another with the King's County Sherriff Department. These accomplishments and the encouragement he received from peers and teachers led him to pursue art when he came to FPU, then called Pacific College.
Fresno Pacific was pivotal in David's journey. Being able to pursue art in what he called a small and caring community, and getting to know professors personally, helped him truly thrive. In 1983, he was shocked when asked to become the university's single adjunct art professor, and teaching there further influenced him. His students ranged from passionate artists to people just filling unit quotas, but he found ways to encourage all of them. "It was a joy teaching art and making it accessible to everybody," he said.
David considers his greatest accomplishment to be an impromptu painting he created onstage during a service at Harbor Light Church in Fremont, CA. During the sermon on AIDS, with 1,000 pairs of eyes watching, David painted a picture of Jesus washing his disciples' feet. "The experience brought up in me feelings about how people were shunned then and now, about how Jesus spent time with those who were perceived as unclean, less than, et cetera. Jesus' example calls us to a higher standard," David said. The emotional experience gave him an opportunity to give a significant message in his own creative language and showed him that creativity has a place in the church.
David currently lives in Clovis with his wife of 21 years, Karen, their 17-year-old son Mark, as well as a diabetic dog and an ornery cat. Though his regular job is in Fresno State's Division of Student Affairs and Enrollment Management, finding resources to help students access the university, he doesn't regret pursuing his art degree. "I am glad that I focused on developing as an artist," he said. "It's something that will always be a big part of who I am."
By Francesco Parisi (current student)
Not receiving our monthly Alumni eNews to your inbox? Sign up here.