Believing the best while seeing the worst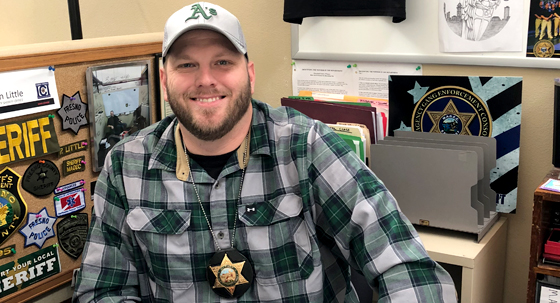 Believing the best while seeing the worst
Preston Little
2009 BA in Political Science
Fresno County Sheriff's Deputy
Preston was driving to jail with a gang member he'd arrested. Christmas was only a few days away.
The gang member became emotional knowing he wouldn't celebrate the holiday with his children. Though hardened by his lifestyle, the man let down his guard in a moment of despair. Preston (BA '09) took the opportunity to speak a message of hope, grounded in his Christian faith. It wasn't an isolated occurrence. "There have been multiple times when I've been able to share the Gospel or just talk about ways people can change their lives," he says.
Preston learned about the importance of relationships at Fresno Pacific, and that knowledge helps in his pressure-filled profession. "We see some of the worst things in society," he says. But rather than bottle up the stress or blur it with alcohol, he talks to fellow graduates who also work in law enforcement. Some of them played baseball with Preston at FPU.
Oscar Hirschkorn, FPU baseball coach, and Richard Unruh, Ph.D., emeritus professor of political science, played key roles for Preston when he worked as a reserve deputy as an undergraduate. "It was total support the entire time," he says. "You have to have a good foundation to do this job the right way."
Other FPU graduates working in law enforcement were featured in the May 2018 issue of Pacific magazine. They bring a Christian perspective to the vital work of safeguarding society. "We're protecting people from evil," Preston says. "Having a Christian education through Fresno Pacific gives that context for this job. It's what I'm here for. It's a calling from God."
By Doug Hoagland