Serving in a complex world
Serving in a complex world
Ryan Stillwater
2009 BA in Christian Ministries
Director of Development at Visalia Rescue Mission
Andrew Feil
2006 BA in Social Science Secondary Teaching
Associate Director of Every Neighborhood Partnership
Andrew Feil and Ryan Stillwater both learned to appreciate—and embrace—the complexity of the world while attending Fresno Pacific University. Both men now use that awareness in leadership positions at nonprofit organizations in the central San Joaquin Valley.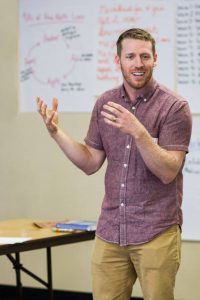 Andrew is associate director of Every Neighborhood Partnership, which uses literacy and sports programs to connect churches with elementary schools in Fresno and Clovis. "I began to empathize and become a collaborator and community builder at Fresno Pacific," he says. "It's a marker of who I am and what I do today."
Richard Unruh, Ph.D., emeritus professor of political science, played a critical role in Andrew's education by helping broaden his understanding of many political issues and exposing him to viewpoints he had not previously considered. Issues that once seemed simple took on nuances that Andrew could not ignore.
Thanks to his professor, Andrew says he started to ask better questions and to listen more intently to the answers. He now uses those skills to involve churches of different traditions and theologies in Every Neighborhood Partnership.
One congregation might see a food ministry as the best way to show the love of Jesus, while another church sees its mission in social justice, Andrew says. "I'm trying to help them find common ground. We can all rally around the church being a welcoming presence," he adds. "As a church gets plugged into the school and neighborhood, it gets to be the tangible hands and feet of Christ."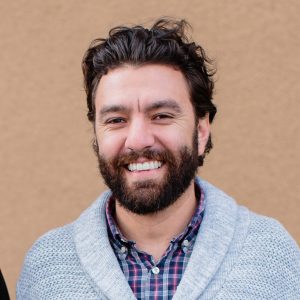 Ryan serves as director of development at the Visalia Rescue Mission. Quentin Kinnison, Ph.D., associate professor of Christian ministries, helped broaden his perspective in FPU's degree completion program at the Visalia campus.
"He helped me see things in a person's life as interconnected," Ryan says. "Someone's circumstances aren't just an isolated part of their life."
One day, for instance, Ryan listened to a homeless friend's story of going to prison at 17 for killing the man who'd molested his daughter. "I didn't think any differently about murder after hearing the story," Ryan says. "But I did think differently about this man—wondering what I would have done at 17."
People share their stories when they feel valued and listened to. "I continue to engage the folks we serve, and as I build relationships, their stories come out," Ryan says.
Ryan shared this man's story in a monthly article he writes for DIRECT magazine—a local publication. "In my role, the best way to fundraise is to tell a story, and the best stories are the ones that connect to you emotionally," he says.
Another way Ryan communicates those stories to the greater Visalia area is through his membership in the Tulare County Task Force on Homelessness, Visalia County Center Rotary and Visalia Chamber of Commerce. His goal is to tell how the Visalia Rescue Mission embraces people in all their complexity and helps them move toward better lives. "I just want our supporters and the public to see what God is doing here," he says.
By Doug Hoagland