Super spiritual or totally crazy?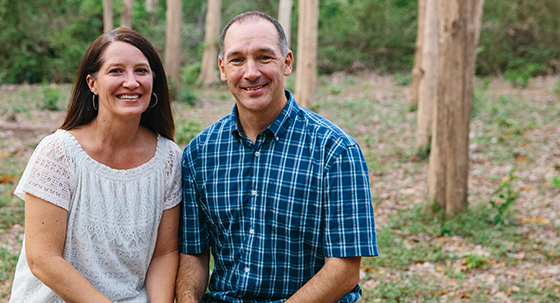 Super spiritual or totally crazy?
Carmen(Ens, BA '95) and Andy Owen(MA '00)
MB Missionaries to Thailand
Andy and Carmen Owen shaped their passion for reaching "the least of these" at Fresno Pacific and Mennonite Brethren Biblical Seminary. For the last 16 years, they've made it their life in Thailand.
As missionaries, where are you serving currently?
We serve with MB Mission in Chiang Mai, Thailand. Andy is regional team leader for Southeast Asia, training and equipping missionaries and national leaders. Carmen is a member care facilitator for the Thailand field, promoting spiritual and emotional health among workers, and part of a team of women planting a church in the Chiang Mai Juvenile Detention facility. Together, we serve to promote the mission and vision of the organization in Southeast Asia to multiply healthy disciples and missional leaders to plant holistic churches which transform communities among the least reached.
Describe the path God led you on to Thailand.
Andy: Growing up in a small town in the Midwest, I figured most missionaries were either super spiritual or totally crazy, and I felt unable to relate to either extreme! However, God completely changed my desires as I delighted myself in him (Ps 37:4). After several short-term mission assignments and youth ministry work, I had a deep longing which was only strengthened after marrying Carmen. By the time I arrived at MBBS, I was confident in my calling and received the tools, training and, perhaps most importantly, the relationships to lay a foundation for long-term missionary service.
Carmen: God stirred my heart for involvement in overseas mission from an early age. After growing up as a missionary kid in Panama, I responded to his calling on my life at 15. He led me through various seasons: starting a Missions Club with friends at FPU to support short-term missions as well as community outreach programs/events, MB Mission's short-term summer programs, prayer walks through Southeast Asian communities in Fresno, kids' clubs and neighborhood ministry in the Ranchwoods where Andy and I lived as newlyweds, and teaching four years in a bilingual program in an inner-city Fresno elementary school. In August 2000, when our first child, Connor, was three months old, we began support-raising, training and team-building, being launched to Thailand in January of 2001 in a 10-year mission commitment with MB Mission's Team 2000. Praise God for his faithfulness in our lives and ministry as we soon complete our 16th year of service here.
What excites you about serving the Lord each day?
Reaching the least reached is exciting, challenging and rewarding. With each life transformed, each baptism, each national leader equipped and each church established, we witness first-hand that Jesus is building his kingdom throughout the earth.
What are your best memories of Fresno Pacific and the Mennonite Brethren Biblical Seminary?
Carmen: Jesus and the Christian Community, taught by Edmund Janzen, was among my favorites. Looking deeper into Jesus' life and community through the Gospels, and contemplating Jesus' upside-down kingdom fueled my passion for risk-taking obedience to see his kingdom spread throughout my community, and throughout the nations. Weekly classes with President Rich Kriegbaum, exploring leadership through the life and book of Nehemiah, were inspirational in pursuing the goals God laid on my heart.
Weekly chapel worship and teaching times, as well as evening cafeteria worship nights, facilitated encounters with Jesus that led to ongoing transformation in my spiritual journey. I learned to listen and better hear God's voice through challenges and adventures like "Walk-About"—the outdoor leadership experience for mentor and resident assistants.
Through dorm, suite and house living, as well as campus clubs, events and various outreach opportunities, lifelong friendships were formed that continue to be a source of encouragement and community. Though most of us are spread throughout the country and world, today's technology allows us to quickly connect.
Andy: My coursework at MBBS helped lay a solid theological and missiological foundation for our ministry in Thailand. Whether it was hearing about evangelism from Hans Kasdorf, leadership from Henry Schmidt or ethics from Mark Baker, I was challenged to reflect and act upon what I was learning. This cycle has served me well in the challenges we have faced in cross-cultural mission.
I served as an admissions counselor at MBBS, and was privileged to be mentored professionally and spiritually by Jim Holm, then dean of students and director of enrollment. Jim was supportive in helping Carmen and I discern our long-term ministry assignment with MB Mission.
Our time serving in Butler Church and developing relationships in the community were especially life-giving, providing a network of support and encouragement that has continued over the many years since we walked the campus of FPU.
Can you share a bit about the rest of your life?
We will always have a Thai treasure, having adopted our daughter Eleanna (7) from Thailand in 2010, joining our other children, Connor (16) and Isaac (13).

Our hobbies include supporting our children's interests in sports, music and dance through Grace International School, which serves Christian workers. We attend a Thai church, where we are involved in aspects from preaching to teaching Sunday school. We embrace living in community as part of an MB Mission team in Chiang Mai, and a larger MB Mission team throughout Thailand—both involved in church planting, resourcing leaders and seeing God's kingdom come and his will be done in Southeast Asia.
One response to "Super spiritual or totally crazy?"