A scary start to a great career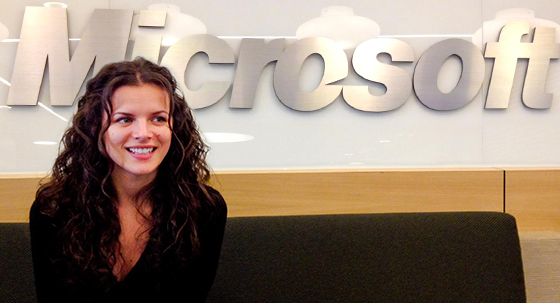 A scary start to a great career
Adriana Bors
2011 BA in Communication
Senior Project/Program Manager for Microsoft's Developer Tools Marketing Team
This was scary. More scary than moving to the United States by myself when I was 17.
At 17, Fresno Pacific was my first experience of being away from home in Moldova—away from family and everything I knew to be my "normal." Everything was a challenge, from finding my way around campus to finding my identity and purpose in life. I went through an intense maturity process academically, spiritually and socially.
But scarier than that experience, was landing my first career job in the IT industry—an industry that I was completely unfamiliar with. I was hired as a technical writer for Microsoft. Every day at the job was a new adventure on unstable ground, but the theoretical knowledge I gained at FPU definitely guided me in creating applied experiences that made me a valuable asset for the team, company and business overall.
It was at FPU that I learned how to read a book overnight, and do a report on it the next morning. Ironically, even though that's not the right way of doing homework, that experience taught me how to work under pressure like I never knew before. It was an experience I use to this day, both in my career and my everyday life.
It was also at FPU that I learned the difference between being a leader versus being a manager. And I discovered that I truly enjoy being both. Currently, I am a senior project/program manager for Microsoft's Developer Tools Marketing Team. I've been consulting for this team for over three years, and recently took over a secondary role within Microsoft's eCommerce team as a program manager as well. It's a mouthful to say out loud, but it's pretty simple actually – I work with awesome people on awesome projects, and I couldn't be more grateful!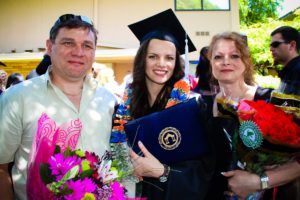 Having a bachelor's degree in communication studies and multimedia production has opened a variety of doors for me. Most people don't understand what Comms are really about. It seems really vague in its nature. And quite frankly, I didn't have the full understanding at the time either. Nonetheless, the knowledge I gained at FPU has guided me in the amazing career path I am on today.
Aside from my career, I am happily married to an amazing man, Andrei Cebotar. We have two pets: a puppy named Cooper and a fluffy cat named Cutesy. I am also pursuing my MBA and am the vocalist in a Christian band, and so I have no real free time which is similar to my time at FPU where I was the president of the International Student Club, a campus worship leader and an RA—all amazing opportunities.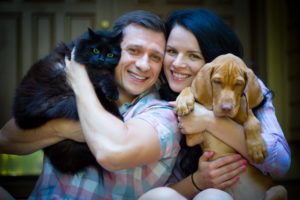 When I look across all the paths I've walked on, I can't help but be extremely grateful. My experience as an undergrad taught me more about how to learn, how to live, and how to be best at things. Although I know this is just my personal experience, I am very confident that many alumni would relate to this and agree with me. There's something about FPU that leaves a footprint on us as individuals. I'll always be a Sunbird—a Sunbird 4 Life.
Allison Rosa (BA '16) contributed to this article.