By the numbers: 1 impacts 100s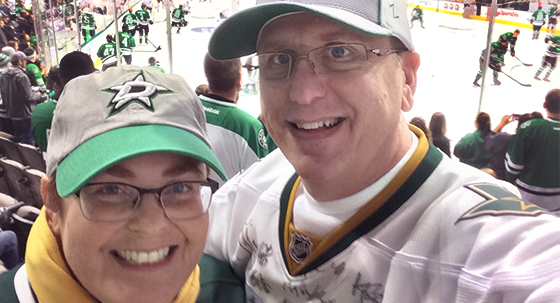 By the numbers: 1 impacts 100s
Greg Sommers, Ph.D. CPA
1989 BA in Accounting
Director, Master of Science in Accounting Program
Professor of Practice in Accounting
Southern Methodist University, Cox School of Business
Like many first year students, when I arrived at Pacific I was unsure of my career goals. Since many of my relatives were in business, I knew I wanted a career that came with a desk! When I took Introductory Financial Accounting at Pacific, I was surprised others found it to be a difficult subject when it seemed so easy to me. From that point on, accounting was my path.
Upon graduation, I worked for eight years in public accounting in Fresno. While I enjoyed public accounting, rather than progressing to partner I began seeking another way to make an impact. I spent nearly two years searching for the next step in my career. The search included praying about it with my wife, Susan, attending Promise Keeper events and even interviewing for not-for-profit management. One day I received a call that an adjunct instructor was needed for the Cost Accounting class at Pacific. There were only a few students in the class, but I knew then I wanted to teach accounting at the college level.
I quickly learned that to teach I would need to go back to school to get a Ph.D. I did some research and found out that Ohio State had a great accounting doctoral program. Since I am originally from Ohio, and still have family there, The Ohio State University was my first choice for graduate school. There was so much to arrange; selling our home, finding housing near Ohio State and planning for a drastically reduced income. God answered many prayers and provided for us all along the way. My family and I set out for Columbus, Ohio with our two boys (2 years and 2 months old at the time). The program took me five years to complete and was very hard on both Susan and me. We were stretched and challenged beyond belief. We also had our third child while we were living in on-campus family housing; it was a 600-square-foot apartment!
As I prepared to graduate with a Ph.D. in Accounting, I was offered a one-year position at Southern Methodist University in Dallas, Texas. That position grew and changed and I have now been at SMU for over 13 years! We love Dallas and SMU. I am now teaching undergraduate and graduate students and directing the Master's in Accounting Degree program, which allows for lots of opportunities to connect with and impact students. The program has grown tremendously in recent years and I enjoy seeing those students walk across the stage at graduation! Those moments mean a lot to me as I come to care for each student and their success.
My education, which began at Pacific, has allowed me to impact literally hundreds of accounting students each year. When my research related to accounting and valuation provided the opportunity to join a team of authors on a financial statement analysis textbook, I saw an opportunity. Running an accounting program includes the awarding of scholarships. Therefore, I know first-hand how much a scholarship can mean to a student and how it can impact their ability to achieve their goals. In 2013, Susan and I established a scholarship for accounting students at FPU. To me, it completed the circle to use this opportunity as an author (a direct result of what I was given at Pacific) to impact another accounting student at Pacific.
Outside of work, Susan and I and our three boys (now 20, 18 and 16) enjoy watching and attending sporting events—especially Ohio State football and Dallas Stars hockey. This year we made a conscious effort to diversify our experiences. From opera and hockey to SMU dance and NASCAR, we find lots of fun things to do in Dallas. I also found my interest in learning takes many forms. My boys and I tried a karate class at our local YMCA about 11 years ago and now three of us are black belts and the youngest is one step away. Susan tends to feel pretty safe when we are with her!
Our biggest volunteer effort over the last few years has been working with the high school band. We are in our seventh year in a row of having a high school band student. As a result, we have contributed in many ways from leadership positions to the small tasks.
I'll end with a few of my favorite memories of Pacific:
* Ruth Heinrichs as my advisor and teacher for so many classes. I definitely had a chance to bond with her and with the other students studying accounting.
* Frisbee golf around campus with friends. They instituted a policy that we couldn't play after midnight during finals because we all wanted to play at 2 a.m. or later after finishing our studying!
* Expanding my circle and awareness. My freshman year my RC (now called an RA) was from Brazil, the guy across the hall was from Syria and my roommate was a basketball player from Albuquerque. Each helped me see things beyond what I knew before!
* Deep philosophical discussions (deep for an 18-year-old) with friends in the dorms that lasted late into the night. I remember talking about the role of material possessions, evangelism and the like.
* Playing foosball in the student union late at night "for the world cup" against Angel, the goalie for the men's soccer team.
* And perhaps the most prophetic was Ted Nickel telling me I should plan to go to grad school…