Math+Family=Equals Happiness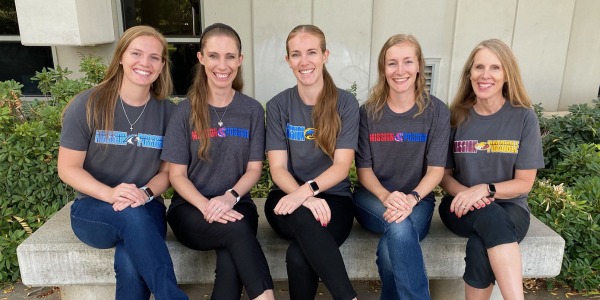 Math+Family=Equals Happiness
Denise DenHartog (Ainley, TC '87, BA '86)
Deanna Certain (DenHartog, MA '15, TC '13, BA '12)
Corinne DenHartog (MA and PPS CRED '16)
Alyssa "Bissie" DenHartog (TC '19, BS '17)
Christa DenHartog (TC '19, BS '18)
Teaching math is more than by the numbers for the DenHartog family, and it all adds up delightfully for math teacher Denise DenHartog:
Her four daughters also earned degrees from Fresno Pacific University
Three of the four followed Denise into teaching math.
Denise and her math-teaching daughters are all scheduled to finish master's degrees in math education at FPU in 2022.
The whole family teaches in Clovis Unified School District.
"I was thrilled for my daughters to go to my alma mater because I had such an amazing experience at Fresno Pacific," Denise says. "I felt so supported, and I was happy for them to have the same experience." The daughters, in birth order, are: Deanna Certain, Corinne DenHartog, Alyssa DenHartog and Christa DenHartog. Deanna, Alyssa (known to everyone as Bissie) and Christa are in the master's program with their mom. "It was my heart's desire for many years to get a master's degree, and how fun to get it with my daughters," Denise says. "I wouldn't be doing this unless they were."
Inspiration at FPU
Beyond the family bond, their individual stories intersect in a love for math, a passion to serve their students and an association with Fresno Pacific that began almost 40 years ago. Denise (nee Ainley) started at the university in 1982 and played basketball and volleyball on her way to induction in the Fresno Pacific Athletic Hall of Fame. She was the first woman to accept an athletic scholarship at FPU.
Her academic career was equally rewarding. "I had some amazing teachers at Fresno Pacific, and they helped me realize the calling on my life to work with students, particularly in math," Denise says. One of those teachers was Wilbert Reimer, emeritus professor of mathematics. "He created such a wonder and a sense of awe with math. Even though I already loved math, he opened it up so much more. There is a lot in the way I teach that I pattern after his instruction," she adds. Denise has taught at Clovis West High School since 2001.
Wil fondly recalls Denise as "unusually well-rounded"—a double major in math and music, a talented athlete and a student leader. "She was a delightful person—trustworthy, dependable and fun to be around," he says. That he inspired Denise as a student and then in her teaching career, Wil says: "It's always wonderful to hear that one has contributed to another's success or fulfillment through teaching. It was my honor to pass on the love of problem-solving and other joys of mathematics, as I'm sure Denise has done for her daughters and many high school students."
Loving math's logic
Oldest daughter Deanna fondly recalls the family atmosphere at Fresno Pacific. "I drove into the parking lot for a tour and there was a sign with my name and there were people who greeted me," she says. Like her mother, Deanna earned bachelor's degrees in math and music. "I've always described music as my heart passion and math as my mind passion." She teaches at Buchanan High School and says: "I love the logic in math, and I love making it a little more understandable to students." Deanna's husband, Ben Certain (TC '21, BA '12), also is a Fresno Pacific graduate.
Corinne is a counselor at Clovis High School. She is grateful for the faith support and practical training she received at FPU. "There's a lot about counseling, like how to read a transcript, that I came out of my program knowing." Counseling allows her to help students discover "the calling on their lives" after high school," Corinne says. "That's significant." And while she doesn't teach math, she shines as the family's whiz with statistics.
Teaching as ministry
Bissie competed in volleyball at Fresno Pacific and appreciates the opportunities she had at the university. She was a resident advisor in the dorms and served on the Student-Athlete Advisory Committee. "I felt like I could go anywhere on campus and have friends," she says. Today a teacher at Clovis North High School, Bissie says: "I love math because I love solving puzzles, and I want to rewrite the all-too-common narrative of 'I'm bad at math.' I want to help students have more confidence in their ability to learn and grow as mathematicians."
Christa initially studied accounting at Fresno Pacific and loved the program. "It was like a family—a wonderful experience," she says. The summer before her senior year, she interned at a major accounting firm in San Jose and became unsure about a corporate career. Returning to FPU, she felt drawn to teaching; she'd always enjoyed tutoring other accounting students. Two faculty members—Catherine Peck, M.S., assistant professor of accounting, and Sylvia Kim, D.B.A., associate professor of accounting—encouraged her new focus. "Sylvia told me, 'Christa, we need more teachers like you.' That was so significant. I felt supported at Fresno Pacific to do what God called me to do," says Christa, who teaches at Alta Sierra Intermediate School.
Teaching is more than a job for this family. "Our ministry is to our students," Denise says. "Our number one priority is to touch their lives and love them where they're at." And if along the way students begin to share the DenHartogs' enthusiasm for numbers? Denise smiles and says: "I tell my students on the first day of class that my goal is to foster a love of math."
Not receiving our monthly Alumni eNews to your inbox? Sign up here.