Bringing joy, peace and love to people in need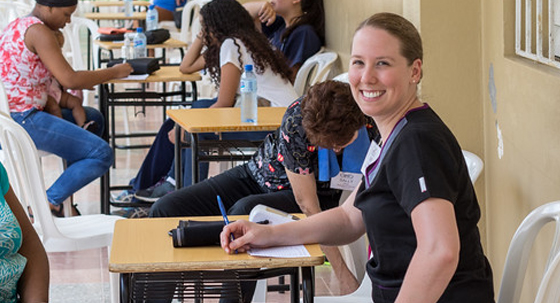 Bringing joy, peace and love to people in need
Amy Ordway, RN, BSN
2013 BA in Pre-Health Sciences
Cardiac Progressive Care Unit Clinical Nurse at Clovis Community Medical Center and
Clinical Instructor at Gurnick Academy of Medical Arts Fresno Campus
Amy Ordway's call to build relationships with people in need leads her to practice nursing at home and overseas.
When she was in college, Amy's father helped the local Christian Medical Dental Association (CMDA) chapter organize medical outreaches. Knowing that she was interested in medical work, he suggested that she go to one of the events. She followed his advice, speaking with many medical professionals and inquiring about various practices. Around the same time, she did volunteer work at Clovis Community Medical Center. These activities opened her eyes to her call to go into nursing, which she learned is about building a relationship with people in need.
"When [patients] are in the hospital, it's unexpected and stressful and being able to bring joy, peace and the love of God in my care . . . even my patients can tell the difference," Amy says.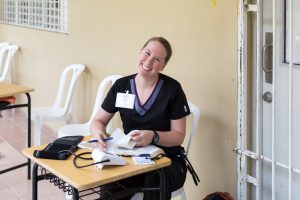 But it's not just at home in Fresno that Amy has built these relationships. While participating in the CMDA outreaches, she met a group of people that goes on a yearly trip to the Dominican Republic for week-long medical missions. In summer 2017 Amy went on her first trip with the group, where she and 40 health professionals of various fields shared the love of Christ to bring physical and spiritual healing.
During that trip, Amy had the privilege of taking care of a man who had been paralyzed the year before. His home was not a house, but four boards with a mattress in the middle. She and a physical therapist examined the man and discovered that he had a little strength on his left side. Amy and her partner were able to sit him up, and he managed to keep himself upright. That was significant in itself, but then they transferred him to a wheelchair. As the man's wife cried tears of joy, they rolled him outside. It was the first time he had been outside in a year.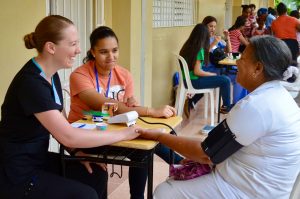 "This man was quiet, he wasn't able to speak because of the stroke, but I just remember him half-smiling at us. You could just feel the gratitude. We changed his life," she says.
In that same trip, the team saw 2,500 patients and 400 of them accepted Christ. Amy went on a similar trip in July 2018, where the team visited 2,000 patients and 200 accepted Christ. Simply giving people medical equipment changed their lives, but she believes that the spiritual impact was just as profound.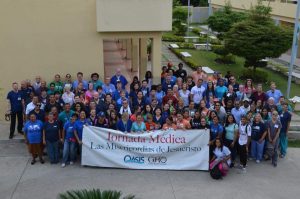 "And that's the best part—being able to see people not only healed physically, but spiritually receiving salvation—and knowing it's not a Band-Aid we're putting on someone's simple fix, but introducing them to a relationship with Jesus Christ," she says.
FPU's Christian influence in education laid the groundwork for Amy's desire to go into health. Her professors reminded her that we are fearfully and wonderfully made, and College Hour sessions enabled her to deepen her relationship with Christ. Today, she continues to take care of patients and plans to continue her annual mission trips. As she says, "It's all about caring for people."
By Francesco Parisi (current student)
Not receiving our monthly Alumni eNews to your inbox? Sign up here.