From Detention Camp to D.C.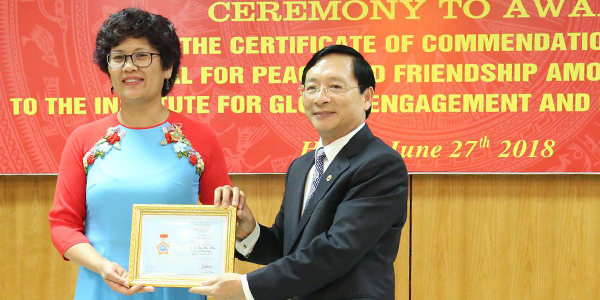 From Detention Camp to D.C.
Hien Vu
2007 MA in Peacemaking and Conflict Studies
Vietnam Program Manager at Institute for Global Engagement

"I grew up with very humble means in terms of material life…I did not even know that I could dream or plan or that I could picture what my future would be like someday." – Hien Vu.
When Hien Vu (MA '07) was living in a Hong Kong detention camp during the post U.S.-Vietnam War era, she never imagined she could create a future for herself. She certainly never pictured her life as it is today, living in Washington, D.C., with a successful career as the Vietnam program manager at the Institute for Global Engagement (IGE) where she helps catalyze freedom of faith in her home country.
Growing up Buddhist in the coal mining town of Cam Pha in the northeast region of Vietnam, Hien never considered herself poor, but life was extraordinarily simple. "I only knew that if I was a good person, didn't harm other people, obeyed my mother and studied hard, then I'd be fine," she says. "Life was so simple for me at the time. I never dreamt or thought I'd leave my family or my town until my mother decided to leave the country."
In 1989, Hien, along with her mother and sister, left Vietnam to pursue a better life and rejoin her dad, who was already living in Canada. Instead, they ended up in a detention camp in Hong Kong until the mid-1990s. There, Hien became a Christian and learned how to speak English by reading the Gideon Bilingual Bible and helping missionaries translate their sermons for people in the camp.
Ironically, if it weren't for her experience at the detention camp, Hien may have never pursued an education at a Christian college like FPU, where she received her Master of Arts in Peacemaking and Conflict Studies. She first learned about FPU in the late 1990s when she attended a conflict resolution training in Hanoi, Vietnam. The training, taught by Ron Claassen, D.Min., now FPU professor emeritus, inspired Vu to learn more about peacemaking, which eventually led her to accept a scholarship.
"It was a life-changing decision, and I thank God forever for making my FPU scholarship possible," Hien says. "He has been faithful to me and has always been there at critical moments of my life to make my life better."
Hien's career in peacemaking has taken her around the world; but today, she lives in Washington D.C. with frequent travel back to her home country. Her job at the Institute for Global Engagement gives her the opportunity to use her degree to plan and implement conflict resolution seminars and other trainings to build religious freedom. IGE's programs that Hien leads are unique and innovative and are changing mindsets, equipping and building a network of reformers, and training government officials and faith leaders on the legal protection of religious freedom for all.
"I love all what D.C. has to offer, especially the freedom I have and the diversities I experience everyday here," Hien says. "More importantly, I can fulfill the call God places in my heart to take part in building his kingdom in Vietnam and on earth from right where I am at now. If one day, God calls me and opens a door for me to serve him in Vietnam, I'll follow his call."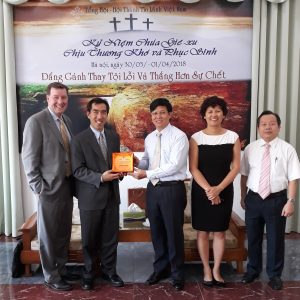 By Kelly Lapadula
Read more about Hien Vu in the 2018 Fall Issue of Pacific magazine.