Mercies are new every morning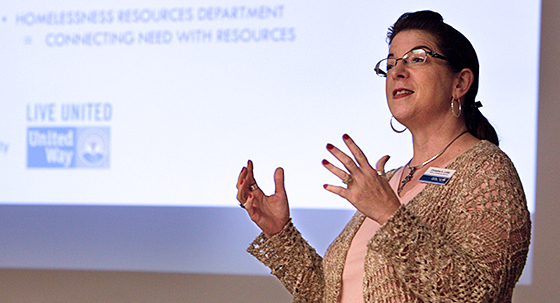 Mercies are new every morning
Christine Lollar
2011 BA in Business Management
Communications Officer at First 5 Kern in Bakersfield, CA

Once a single mother of three, working three jobs and making $10 too much per month to qualify for any public assistance, Christine Lollar knows what it is to face hardship. Fresno Pacific University: Bakersfield Campus, helped her overcome, and today she helps others do the same.
Growing up, Christine was never encouraged to attend college. As a teen mother, she was not permitted to graduate high school, so she earned her GED instead. "I was heartbroken not being able to walk the stage in that small town with my friends of 12 years," she remembered. "There were no social programs. I could never have imagined that it would be possible, years later, to graduate magna cum laude at age 47. Finally walking across the stage, with a gold cord at that, I felt capable for the first time in my life and I knew who helped me get there."
Christine's degree provided options for her career. "This education gave me an opportunity to do what I loved. But what made the most impact was what FPU did for my self-esteem. I was pretty broken with little confidence," she said. "Through the teaching of Professor Dave Wainscott and the class on the life of Matthew, I realized that in my career God could use my 'little' and create 'much'." She explained, "We don't really know who Matthew was. His occupation isn't defined, his birthright is assumed, and we aren't even 100 percent sure he actually wrote the Gospel of Matthew. Yet, he has been known for thousands of years because of his willingness to be used by God."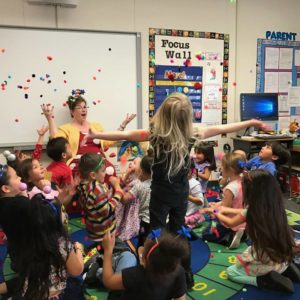 With a Bachelor of Arts in Business Management in one hand, newfound self-confidence in the other, today she is using her experience and education to empower families who live in poverty, specifically those with young children.
After graduation, Christine became director of homeless resources for United Way of Kern County, where she oversaw a $5.4 million federal homelessness grant and became an advocate for homeless people in Kern. She started The ReGIVE Project, which allows people to donate new or gently used household items to homeless families being housed. Nearly 300 households were helped in the program's first year.
Recently experiencing a career change, Christine now works for First 5 Kern—coordinating media, public relations and communications for the agency which supports child development wellness and education programs throughout the county, advocating for families living in poverty. "Education truly is one of the pillars for ending poverty in our country. No one understands that more than I do," Christine said.
"I love empowering families—especially young mothers," Christine said, "This work prevents homelessness. It connects needs to resources and I am honored to use the gifts and experiences God has given me."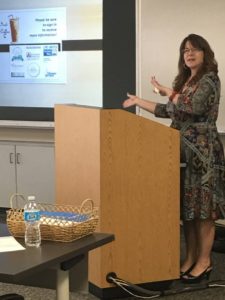 "As I trained 800 people, mostly community leaders, over the past year, about accessing resources to end homelessness, it was abundantly clear to me that God made this possible," Christine explained. "I've had the privilege of organizing and speaking at large events; even filling in for pastors in the pulpit. This was all God's doing. I've learned that my value is not what others determine. It's not how much money I make or what my job title is. It's not even how many people I help. Everything I've experienced is because God's mercy is new every single morning. He has a plan for my life that's beyond what I can imagine or others can determine. My job is to say, 'Here I am, Lord, use me.'"
Christine and her husband, Richard, enjoy spending time with their children and grandchildren, especially camping, and they attend New Life Church Northwest in Bakersfield.
By Rachel Catrina (BA '16)
Main photo credit to Michael Fagans