Feeding the Need for Food Awareness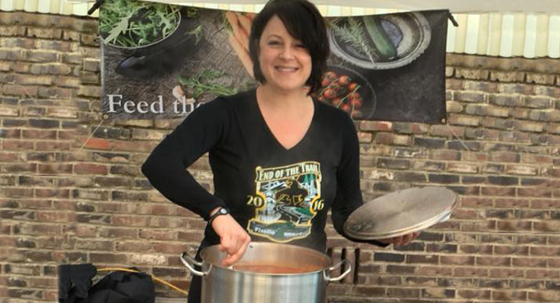 Feeding the Need for Food Awareness
Kellie Black
2013 BA in Organizational Leadership
2014 MBA
Founder and innovator of Feed the Need and Mâche
Kellie Black took what she learned at FPU about life transformation and community leadership and turned it into Feed the Need— a business model that helps feed a hungry person with every meal purchased—an idea she is implementing into her culinary business, Mâche.
As a young woman, married with three daughters, Black struggled to be mother and student. "I had my first daughter at 16… I could have been a statistic. But I guess I am, just on the other end of the spectrum," She said.
Black had completed community college, but did not enjoy school until coming to FPU. During her time at the university, two trips had a long-term impact on her business goals. In Costa Rica Black interacted with all that she was learning about business in a personal, global and hands-on approach. Boston inspired the current mission of Mâche which addresses the principle of giving back to the community. (More at gomache.com/)
Mâche originally existed on paper as a business plan Black wrote as an undergraduate. Then, Black offered to make a week's worth of healthy meals for a few friends. Popularity increased and Black was making 300 plus meals every Sunday as well as serving at local farmers markets.
"Bringing awareness is so exciting,' Black said. "The way we have been eating in the past is finally catching up with us. When someone is struggling, I love showing them they can enjoy eating again."
Besides running a quickly growing business, Black is very involved in the Visalia running community, has taught courses at Reedley College and attends Radiant Church with her three daughters. She still enjoys cooking, even on her days off.
By recent alum Rachel Catrina (BA '16)
2 responses to "Feeding the Need for Food Awareness"