A 21st Century Peacemaker
A 21st Century Peacemaker
Camille Valentine
2010 BA in Criminology and Restorative Justice Studies
2013 MA in Peacemaking and Conflict Studies
When the housing and financial markets crashed in 2007, it was my opportunity as a real estate investor to make a career change. I remember the day I threw up my hands, saying, "Okay, Lord, I tried, my life is yours, please tell me what you'll have me do with it?" I then felt lead to return to school. I've always been fond of universities committed to Christian principals and after visiting the intimate campus of FPU, the decision to enroll was easy. I felt at home.
Immediately after graduating, I continued my studies in the Center for Peacemaking & Conflict Studies. I began re-discovering who I was and searching for what I felt I was meant to be, what I felt I was meant to do for the kingdom of God. Being an ambassador for peace and reconciliation to help others navigate through their disputes drew me. After I completed my first mediation case, I was hooked. It was like trying on Cinderella's glass slipper to discover it fits. Reflecting on those early days at FPU confirms that all the adversity I have overcome in my life has had a purpose: to prepare me for where I am today. By the time I graduated, I had accepted the call on my life as a peacemaker and mediator by creating Valentine Mediation Services.
Once I received my master's, I was promoted from CPACS graduate assistant to director of mediation services in the center's family division located in the Fresno County Superior Court. This was a huge undertaking as I had no prior experience in family law and had to develop the program. Our small staff established services for all the court's family, probate and civil judges and sustained a strong presence as peacemakers on all five courthouse floors. Though the program was dissolved in July 2015, it contributed greatly to restorative justice in the Central Valley.
Our group reached the most agreements among Alternative Dispute Resolution vendors, and I maintained a 90 percent resolution rate during more than 500 cases. Yes, it was hard work but it was worth it! My dedication and commitment to follow the Lord's call has led to many awards for my work as a peacemaker for the court and community. In September 2015, my colleague Donald Fischer and I received certificates of appreciation from the Judicial Council of Fresno Superior Court's Alternative Dispute Resolution Department. It feels really good to have been recognized by FPU faculty, court staff, judges and the mediation community as professionals and as experts dedicated to bringing peace and reconciliation to those in need.
In my journey with FPU, I've been able to accomplish much: first African American female settlement officer for the Fresno County Superior Courts Alternative Dispute Resolution Department, court mediator panel member, two terms as the president of the Association for Conflict Resolution Central California Chapter and one of four members in the region of the Academy of Family Mediators-Advanced Practitioners with the national Association for Conflict Resolution. Other awards include certificates from The Fresno Metro Black Chamber Of Commerce, the City of Fresno, both houses of the California State Legislature and the U.S. House of Representatives.
I have been instrumental in developing mediation programs in the Fresno County Superior Court Systems, creating workshops to reveal personal conflict management styles and teaching in churches about mediation and reconciliation. All this is possible because of the dedicated faculty and staff at CPACS and the training received from this institution.
I am truly thankful, grateful and proud be called a Sunbird—an FPU alumna.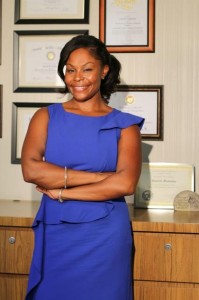 2 responses to "A 21st Century Peacemaker"