Tessa Gregory-Onward to Galilee!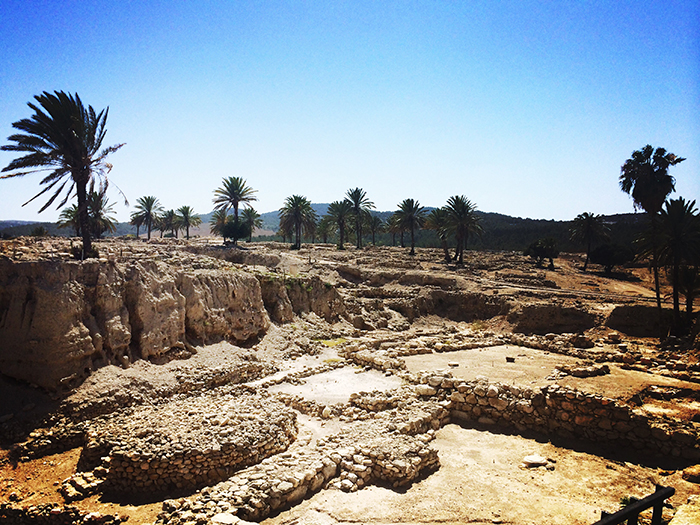 Tessa Gregory-Onward to Galilee!
Today we headed to Galilee! This trip had been built up by many people so we were all excited to see what the resort at the Sea of Galilee would be like in actuality. On the way there though, we stopped at a few sites. The first of these was Caesarea. This place was beautiful!
Herod the Great built the entire harbor during his reign. Usually during those times harbors were not built, but rather areas where the water naturally receded would be used to create one. In typical Herod fashion he decided his was where he wanted a Harbor and since he had all the money to make it happen it did. Though not much of the remains from what he actually built still remain due to an earthquake in 106 AD that dropped the land 6 meters. Brian then tells us the story told in Acts 10 because Cornelius lived in Caesarea.
The story tells of a vision given to Cornelius and another vision then given to Simon Peter. In Simon Peter's vision God instructs him to eat food that was not kosher to which he refuses. In Cornelius's vision he is told to send two men to a man named Simon Peter. Simon Peter allows them in following the rules of hospitality and goes with them to Caesarea where he then enters the house of Cornelius even though it was against Jewish law to enter the house of a Gentile because it was considered impure. From this Simon Peter realizes that God does not show favoritism and that the gospel is not just for the Jew but for all people. After learning so much about Jewish culture and customs while living here this whole story made more sense to me than ever before. After living in the land where they reside and learning their background and lifestyle from Brian, stories like these become much more significant. You begin to realize how important the oral law was in addition to the written law. I think what's most significant is that Simon Peter having grown in this culture is finally able to see that the Lord does not have the cultural barriers we do on this earth. That His desire is for everyone to hear His news not only His people.
We then wandered around Caesarea marveling at its beauty and the vastness of it. If there is one thing I have observed while being in Israel, it is that anything and everything Herod the Great built was massive and extraordinary. We then quickly stopped by the aqueduct that Herod built in order to get water to Caesarea. Once again nothing that Herod does is small or unimpressive! From Caesarea we went on to Megiddo. Many people know this as the site talked about in revelation where it is said Armageddon will take place. Though Brian has his doubts on whether this is actually scientific, others believe it will still happen. While overlooking the exaction site we learned that there were 25 Temples built one on top of the other in the exact location we were looking over! Incredible! From here we went to a lookout spot to gain a better understanding of the topography of the land.
We then finally made our way to Galilee! It is even more beautiful than I expected! Our house is right on the shore and the water is beautiful. I'm thrilled to learn more about this place while having the luxury of staying in such a beautiful resort while doing so. God's creation can be overwhelming sometimes. It still amazes me that the exact place where Jesus saw sunset after sunset is where I get to stay for the next few days. I can't wait to further study the land where Jesus spent so much time.