Thursday 6/19: Old City of Jerusalem Holy Sites (Allison)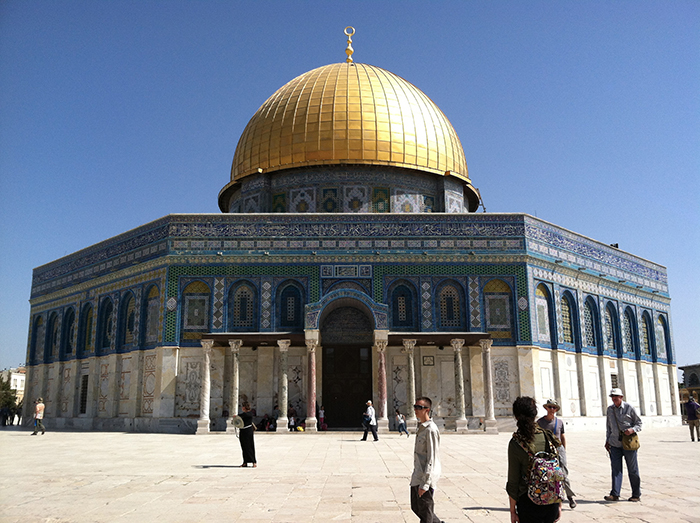 Thursday 6/19: Old City of Jerusalem Holy Sites (Allison)
We began our adventure today by journeying through the Jewish quarter of the Old City of Jerusalem to reach the site of what was known to the ancient Jews as the Temple Mount, upon which currently stands the Dome of the Rock and el-Aqsa mosque. We began at the base of the Temple Mount, passed through security, and walked up to the top on a wooden ramp. While walking on the ramp, it was possible to look down and see the Western Wall, also known as the Wailing Wall, where Jews congregate to pray. It was amazing for me to see how closely juxtaposed the Jewish and Muslim holy sites are – two of the most significant religious sites for these two religions separated only by a mere wooden ramp!
The sight that greeted us upon entering the huge open area at the top took my breath away – the Dome of the Rock is a truly magnificent building with beautiful blue mosaics and an incredible golden dome. I couldn't believe that I was actually standing there, seeing the monument with my own eyes! After exploring the area around the Dome of the Rock, we next walked over to the Church of St. Anne's, next to which are located the ancient ruins of the Pools of Bethesda. The Church of St. Anne's has beautiful acoustics, which we experienced by singing a few songs, one of which was the Doxology. A song that I have grown up singing in my own church tradition, I was very moved to hear the Doxology in such an unforgettable environment.
From St. Anne's we wound our way through Jerusalem's narrow, busy streets back to the base of the ancient Temple Mount where we actually entered the area at the Western Wall. This was one of my favorite parts of the day because on the men's side of the gender divided area, many boys were celebrating their transition into adulthood through the tradition of the Bar Mitzvah. The Wailing Wall, much to my surprise, was not a solemn place at all, but an environment of joyous celebration (for today, at least). I loved it! It was so much fun to watch. Overall, today served as an excellent reminder of Jerusalem's composition of incredible religious diversity. Although small in size geographically, Jerusalem is packed full of many fascinating traditions. What a blessing to be able to experience each of these elements of religious life!