Past Meets Present 45 Years Later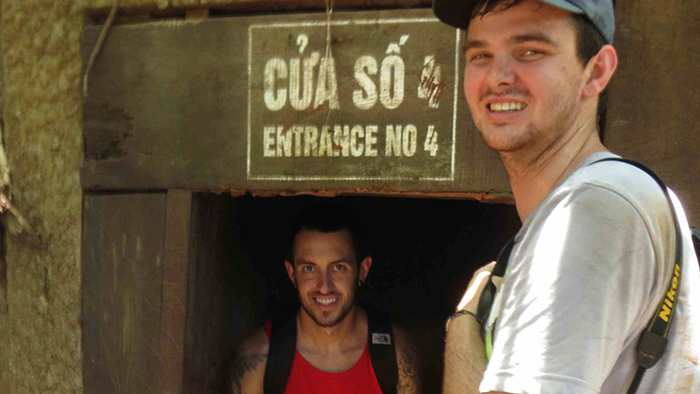 Past Meets Present 45 Years Later
by Tom Schindler
When I left Vietnam in July of 1968, I was genuinely interested in what Vietnam would look like after the war.  I always found 'Nam a beautiful country with a very hospitable people…when they weren't shooting at me.  Well, this trip has proven to exceed my expectations by a great deal.  The Vietnamese were always hard working and creative, and today's trip from Hue to the tunnels of Vinh Moc showed just how much so.
Today's Hue is vastly different from the war torn Hue of 1968.  In fact, one would never know that this was the center of one of the greatest conflicts of the Vietnam war: the Tet offensive of 1968. Today's Hue is a clean modern cit̀y of less than 500,000 people with new high-rise offices and apartments nestled between one and two story mom and pop storefront homes.  It has a bustling riverfront park along the Perfume river downtown with shops, vendors, restaurants, and excursion boats.  It is a mecca for young men and women to meet and socialize.  As we strolled from the park back to our hotel, I was a little anxious about our trip to the Vinh Moc tunnels north of Hue in the morning..
This morning began a typically beautiful Vietnam morning: hot & humid.  After yesterday's rain, I was hoping for something cooler, but no such luck. We boarded the bus and prepared for a three hour ride to our destination.  Vinh Moc is located just north of the 17th parallel, which used to divide North and South Vietnam. On the way, we stopped and walked across the bridge from South to North.  On the other side, we visited a war museum which was devoted to the destruction and human cost to Vietnam by the American bombings.  As odd as it may seem, the unexploded remnants of the war are still causing casualties among the civilian population.  Unexploded cluster bombs and larger elements are plowed up by farmers or stumbled upon by children.  It is disheartening to know we are still inflicting pain on this nation.  The museum had a guestbook, and many of us took advantage of the opportunity to sign it…even "Kilroy."
Back on the bus we made a short 10 minute ride to our eventual destination, Vinh Moc. The tunnels were dug between 1963 and 1968, but unlike Chu Chi, these weren't built to infiltrate an enemy area, but to protect the local population from American bombing raids and to store weapons and supplies.  This set of tunnels consisted of three levels, spread out over approximately 3 sq. kilometers.  There had a  hospital/maternity section, 17 babies were born there, three wells for fresh water; bathroom facilitieṣ, a bucket on a rope; storage areas; a public meeting room, and a sleeping area.  Lest you think this was just paranoia, the area above the complex was pock marked with bomb craters.  According to our guide, the Moc Tunnels never sustained a cave-in.
Our guide invited us all for a short tour through a section of the tunnel complex.  What a bunch of brave souls.  Everyone went into the complex for the tour, even 6′ 7″ Kurtis.  By the way, did I say the ceiling height was approximately 5,5 ft.  Yours truly weaseled out: too old, too fat, too tight, and too hot.  I figured "been there, done that," so I went ans sat in the shade of a cool bamboo grove and enjoyed a cold water. After 20 minutes the crew returned.  they were all hot, tired, and smiling. When I asked how his legs were, Curtis replied, "Man they are burning."
An exhausted group FPU students and instructors boarded the bus for lunch and a sleepy trip home to Hue.
2 responses to "Past Meets Present 45 Years Later"