Writer Sara Beth Williams has more than one story to tell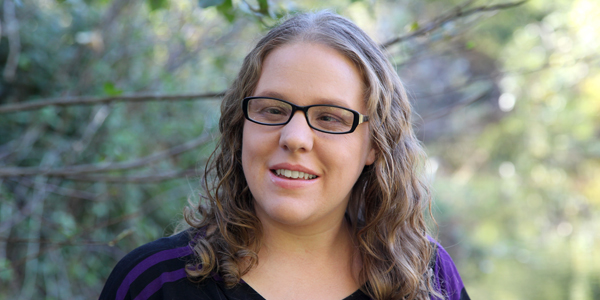 Writer Sara Beth Williams has more than one story to tell
Sara Beth Williams
2009 BA in Liberal Studies: Theater Concentration
Author
Sara Beth Williams' journey to publish Christian romance novel When Hearts Collide is a story in itself.
When Hearts Collide tells of an unlikely couple's complex love story. When Jay Matthews, an ex-convict whose newfound faith in God compels him to put his past behind him, meets a fellow college student, Lacey Bennett, who grapples with faith and blames God for her sister's death, a bond immediately forms. Unfortunately, Lacey's bitterness toward God and Jay's past secrets create obstacles in the couple's relationship. Throughout the novel, they struggle to find forgiveness, redemption and purity in order to overcome those obstacles together.
Sara Beth endured her own struggles while seeking publication. She fell in love with writing in fifth grade, when she began writing stories inspired by Little Women and A Little Princess. In high school, she began the earliest stages of When Hearts Collide. When she attended college at FPU, her experiences in the theater department and her involvement with campus activities inspired many elements of the story.
"I believe that every experience a writer has will eventually bleed into their writing," Sara Beth said. "What better way to write about life than experiencing it firsthand?"
At age 13, Sara Beth vowed to be published by 30, but it would take two years longer to see her dream realized. After honing her manuscript, she had months of researching agencies and publishing houses, perfecting queries, and continuous editing ahead before she could send her manuscript to potential publishers. Her book received four rejections and several no-replies. Finally, she entered the Twitter contest #FaithPitch in 2017, and Christian publishing company Anaiah Press offered her a contract. But the challenges continued. Sara Beth still had to manage life as a working wife to Jason and mother to two daughters during the lengthy publishing process. She experienced three family tragedies in six months during the final editing phase. Despite the chaos, When Hearts Collide finally released in September 2018.
Sara Beth savors her success as new stories brew in her mind. "The dream is worth fighting for," Sara Beth said. "The sheer exhilaration of accomplishment is like nothing else."
She loves connecting with readers. You can find her on Facebook (SaraBethWilliamsAuthor), Twitter (@WilliamsSaraB) and Instagram (@SaraBethAuthor2018).
By Francesco Parisi (current student)
Not receiving our monthly Alumni eNews to your inbox? Sign up here.