Reinventing the Classroom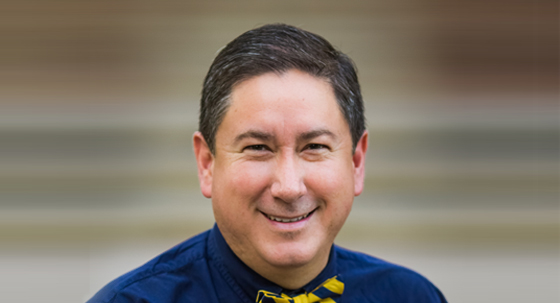 Reinventing the Classroom
Efrain Tovar
1995 BA in Liberal Studies with a Bilingual Emphasis
2006 MA in Educational Technology
7th grade Academic Block / 7th-8th Grade Newcomers/English Language Development Teacher
Google for Education Certified Administrator, Trainer, Innovator
Efrain Tovar is revolutionizing his classroom—and is hoping to do the same in other schools.
Currently a 7th grade Academic Block / 7th-8th Grade Newcomers/English Language Development Teacher in Selma, Efraín has served as an academic coach and coordinator of technology in the Selma Unified School District and a Google for Education Certified Administrator, Trainer, Innovator, training teachers how to integrate technology to help with language barriers in the classroom using tools Google provides. Efraín sees technology as an integral part of learning. "The goal is for students to become producers," he says, "not merely consumers of technology."
At the start of this school year, Efraín's classroom looked like a typical middle school classroom, with bulletin boards, blackboards and desks in rows facing the front of the room. Challenging preconceived ideas about the classroom environment, Efraín has opted for monitor screens instead of bulletin boards and blackboards and rearranged the desks so students work in smaller, collaborative groups. And by creating a space in which students face various directions, there is no longer a front of the room where he could stand behind a desk and lecture. Efraín has also put a tablet into the hands of each of his students, encouraging them to use technology as a means to learn. "This allows the students to be in charge of their learning," he says.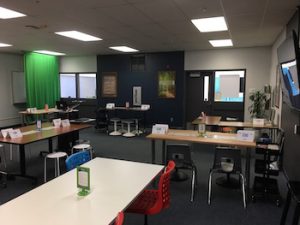 Acquiring and mastering the English language is the challenge for most of Efraín's students. In his classroom alone, there are five different languages represented. "In the Central Valley, there are 59 different languages, and nearly 300,000 people are second-language learners," he adds.
Although he loves teaching, Efraín believes his role is more that of facilitator. "My job is to help them [the students] be critical thinkers, able to communicate with each other and globally," he says. While always looking for new ways to encourage learning through technology, Efraín also feels grounded by the instruction faculty provided him at Fresno Pacific University.
Efraín was recruited to play soccer for the Sunbirds under Ken Fox and Jamie Ramírez, who became a mentor, along with Leslie Mark in biblical & religious studies and Wayne Huber in music. Learning from these men, Efraín observed what it meant to take faith into consideration in every decision. "Former teachers are especially excited to see what I have done as both an educator and as a Christian," says Efraín.
Now Efraín's revolutionary ideas are getting a bigger platform. This November, he has been invited to present at the Region 7 Conference: Best Results for English Learners, and in March he will present at the Computer Using Educators National Conference in Palm Springs. Efraín is hoping to challenge and inspire teachers to direct more of a concerted effort towards second language learners.
Many in the FPU community know Efraín as "Ef" which was his nickname when he worked for several years in the Admissions Office. He, his wife, Susan (BA '06, currently in the MFT graduate program at Fresno Pacific Biblical Seminary), and their four children attend church in Reedley, where he is involved in the children's ministry. They love to travel and camp as a family.

By Rachel Eyo (Catrina, BA '16)