Wat Xieng Thong… Buddhist temple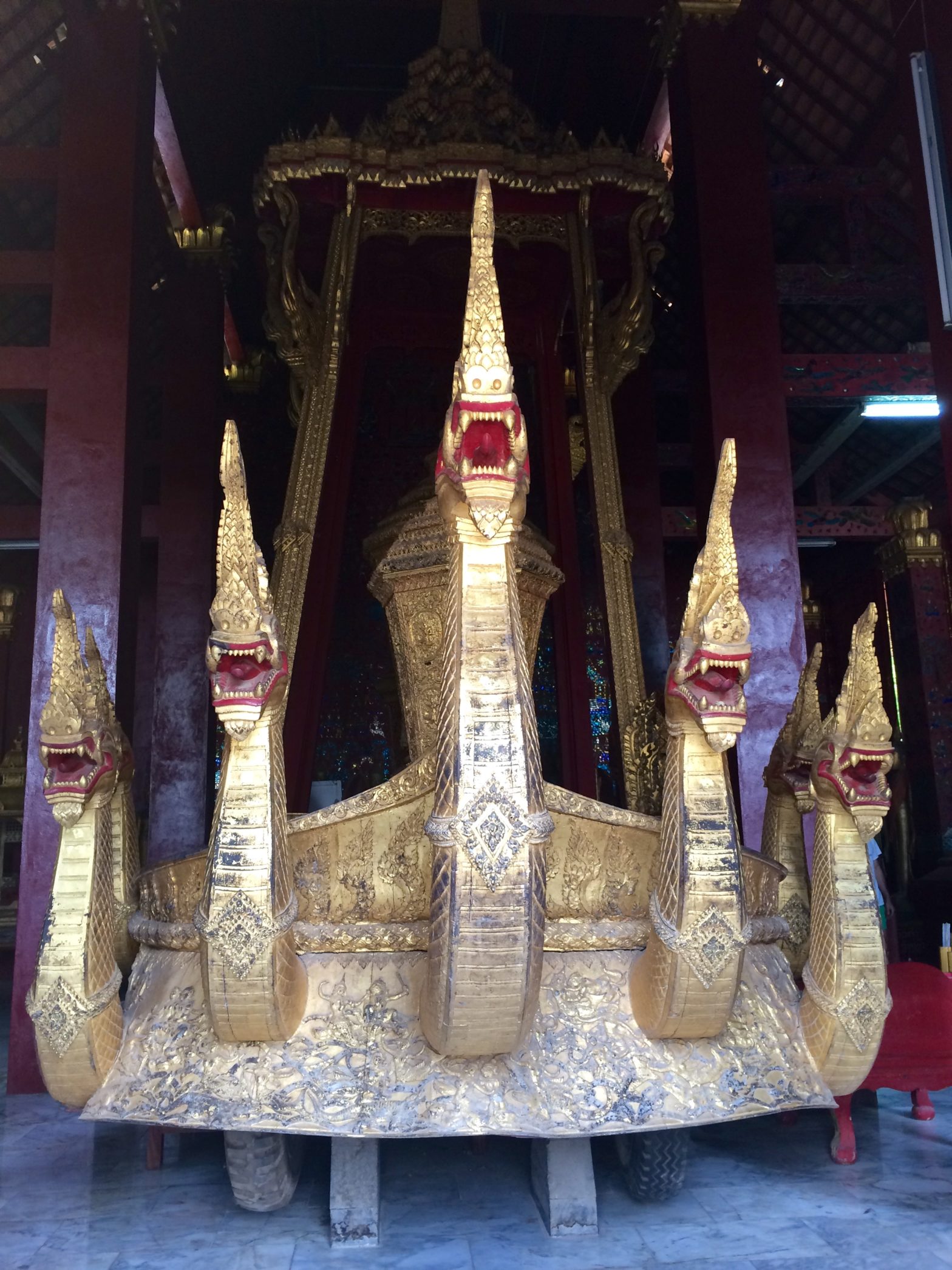 Wat Xieng Thong… Buddhist temple
Written by Sara Phillips
Wat Xieng Thong in Luang Phrabang, Laos.  Today we visited this beautiful Buddhist temple that is also known as the Temple of the Golden City.  It used to be the royal temple of the royal family and Lao kings that were crowned in the was.  Now it is one of the most important Lao monasteries and greatly represents the significance of religion, royalty and traditional art.  It was built in 1560 and it is in very good condition for its ago and recent renovations.  The architecture of the building is absolutely beautiful, the hand painted walls with extreme detail and carved wooden doors that represent scenes from Buddha's life.
The ceremonial carriage that would have carried huge golden funeral urns of the Lao royalty.
The seven red-tongued naga snakes at the front of the ceremonial carriage.  Kept in a building to protect the high gilded wooden carriage that sits on six truck wheels at the entry. There are three urns that can be seen on the carriage, in the front the remains of the king's father, in the rear the remains of his mother and in the center place of honor under the canopy is the remains of King Sisavang Vong.
This was one of the most beautiful temples I have had the plesure of seeing on this trip.  It is hard to think about the amount of time that would have gone into creating such a masterpiece. Unlike Vietnam it's easy to see the Buddhist religion is the the religion of choice for the people of Lao and they are very faithful to their beliefs. It is a place that holds much higher respect and they expect you to be dressed appropriately, not showing your shoulders or knees.  Much different then the temple experiences in Vietnam.  It truly was a golden city and an experience I will not forget.