Masada and the Dead Sea!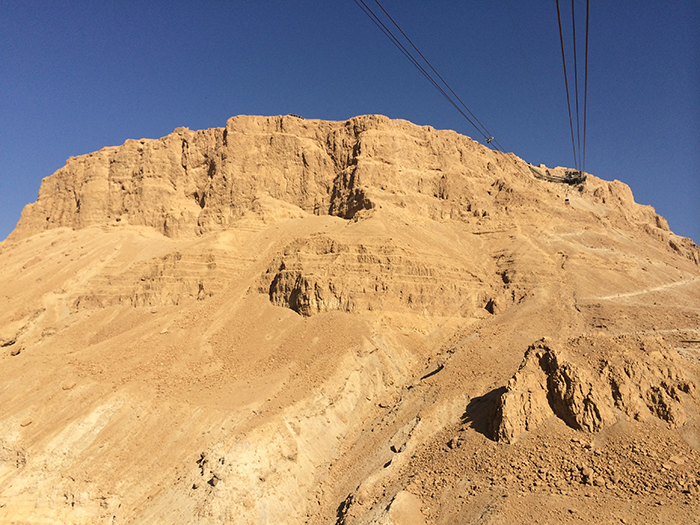 Masada and the Dead Sea!
Today we did a few things that we already did in our previous three weeks of being here. Though some of it is repetitive I feel I am able to gain and even deeper understanding of things once I see and hear them twice. Not only that but now that I have a basic understanding I am able to catch more smaller details throughout the day.
We began our day at Masada. Sadly we were not able to hike up and down it due to time constraints! (Three weeks ago I would have been happy not to hike. Now I'm upset when we don't!) Funny how things like that can change on a trip. When we don't have a sufficient amount of walking and hiking I feel lazy now. Hopefully I can keep this up at home!
Masada truly is an amazing fortress. Its size is astounding!
Some facts that I found interesting:
Herod probably only went to the fortress two or three times a year! If that!
The water cisterns could hold 40,000 cubic meters of water. About 1,000,000 gallons!
At one point 10,000-15,000 people were there during the Roman Siege (this required 16 tons of food a day and 26 tons of water!)
To me these numbers are amazing!
On somewhat of a sidenote…
While we were on Masada Brian pointed out an interesting fact about the Jewish faith that stuck with me. We were discussing Jews and the law and he brought up the negative connotations we as Christians many times have when we hear about all the laws they try and follow and their contract with Moses. As Rabbi Moshe described yesterday, the covenant is compared to a wedding. He asked the question.. "Do we rejoice or get saddened by a wedding?" We all know that a wedding is a celebration… Yes the two people are losing the ability to live selfishly, but they both agree it is a privilege to make this covenant with one another. This is how the Jews felt. Yes they would be losing some selfish freedoms, but this contract was a privilege to them! And one to celebrate.
I think this idea is very applicable in the Christian realm as well. It's just as we compare Christ to the bridegroom of the church. We took make a choice to give up our lives and take up our cross when we accept Him into our lives. We are making a covenant with Him! Giving him the power to work and move in us and that is a beautiful thing. One to rejoice. Sometimes I think it can be hard for us to make those connections in the Jewish culture as well but to me it is all very comparable.
From here we went on to the Dead Sea again and bobbed for a while. Shaving is not recommended before entering the water due to its extremely high salt content. This was something I forgot… needless to say I was in and out of the water fairly quickly!
Our last stop of the day was Qumran. We also went here a few weeks ago but we were able to spend much more time there this time. It was amazing hearing about how many scrolls and fragments were found in these caves. In cave 4 alone 16,000 fragments were found making up 500 documents total. Crazy! Because we had more time, we were able to go for a hike! Yay! We walked up the hill and were able to crawl through an ancient aqueduct! It was awesome! I felt much more productive after getting at least a little more exercise towards the end of the day. Can't wait to see what the rest of this week has to offer!
-Tessa Gregory