The Joy of Reading and Travel
The Joy of Reading and Travel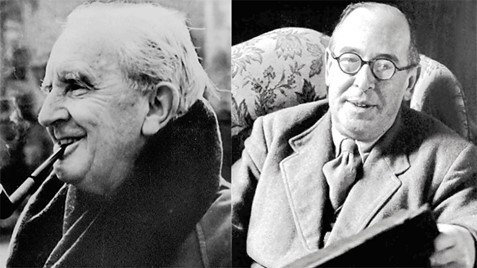 What could be better than having the assignment to read, reread and talk about C. S. Lewis, J. R. R. Tolkien, and other Christian writers of England? That is what I have been doing and preparing for over the last several months. I can't read everything they wrote, but I am through The Hobbit (much, much better than the movie version), and Lewis's That Hideous Strength (not his best, I, and many others, think—Perelandra and Out of the Silent Planet were better—reread those last year). Tolkien's essay "On Fairy Stories," (which doesn't refer to what the title might think it refers to…) set out their agenda for the creation of other worlds.
I've been working on Jane Austen's Mansfield Park, one that critics think is not her best, but which reveals her Christian sensibility more broadly than others. And with along with Austen, I've been reading some of the writings of Samuel Johnson I haven't read before; Johnson was one of Austen's favorites—she knew his work in depth. Johnson shares something of the spirituality of Lewis, his good sense and his rational approach as a moralist. And I am running through Chesterton's The Man Who Was Thursday: A Nightmare. You can almost not run through Chesterton. He keeps you going, and the subtitle hints at why you might want to keep running. But I have been more intrigued in this reading than in the past by the depth with which he addresses the culture of his and our age in this little tale.
Lent is coming up—T.S. Eliot is a natural for this season of discipline: Ash Wednesday, the Four Quartets (I have them on DVD for listening to while traveling), and Choruses from the Rock. And perhaps some of George Herbert and John Donne, whom I always associate with Eliot, perhaps because he very consciously turned to them for models for both writing and Christian sensibility. I will take one of my classes through The Wasteland (which they will not necessarily appreciate) but which tells us something about how Christians have negotiated through our age. Lewis did not appreciate Eliot, though they became friends late in life working on revisions of the Book of Common Prayer. Lewis is something like Proverbs. Eliot is more like Ecclesiastes. We need them both—the attitudes they represent are both part of our Scriptures.
But what could be better than this? Going to Oxford, Salisbury and Bath, London and Canterbury where they lived, worked, wrote. Seeing their sights, and many others. Traveling with friends with common interests—FPU, love of travel, Christian writers, England, London, and much more. This is the destination for our Alumni and Friends Tour this June. You can see the details about it at Reformation Tours, or on the Alumni Tour page of the FPU Website. If you would like more information give me a call at 559 453-7155, or contact me at steve.varvis@fresno.edu. We'd love to have you join us.