Beauty and Unity in the Reformation
Beauty and Unity in the Reformation
We have been in two "Reformed" centers, two very, very, very beautiful cities, having left the Luther Towns of Germany. First we were in Heidelberg on the Neckar river, the old town wedged in a narrow valley. This is the city of the famous Heidelberg Catechism, which begins by asking and answering, "What is your only comfort?" "That I am not my own, but belong with body and soul, both in life and in death, to my faithful savior Jesus Christ?"
Did I say beautiful. Here is an evening view of the castle. And then a view from our hotel down to the city.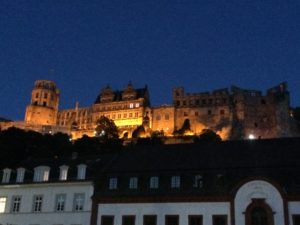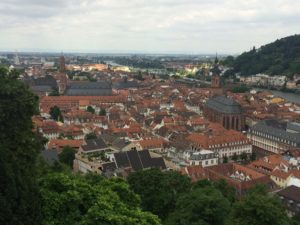 I could not help but add a picture of the Student Jail. FPU doesn't have one…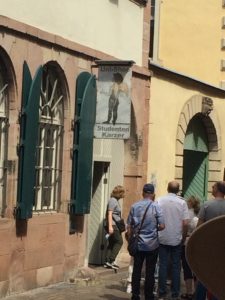 Next we were in Strasbourg, another Reformed city, and one beloved by many. FPU has a Strasbourg quad for good reason. Strasbourg was lead by Martin Bucer, who spent his career as a reformer attempting to bring the newly forming church groups and society's back together.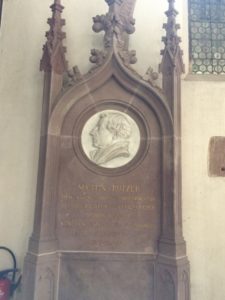 He tried to bring Luther and Zwingli together (but neither was willing to budge). He taught Calvin how to moderate himself and his reforming agenda. He convinced the leaders of the city of Strasbourg to allow Anabaptists safe haven from persecution elsewhere. And he worked with Catholics to produce a statement on justification that would accommodate the understandings of both Protestants and Catholics. We could use more Bucers in our churches.
While there were persecutions in the Strasbourg—the Tower shown below is where some Anabaptists, like Melchior Hoffman was held—the city was known as one that brought many contending groups together for a generation. Strasbourg is still such a city. Our hotel was not far from the European Parliament buildings, and the European court of Human Rights.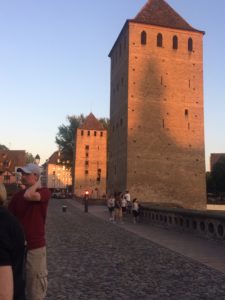 We have had an inspiring trip. And like Heidelberg, Strasbourg is beautiful. Here is its magnificent cathedral, and our group in the old city.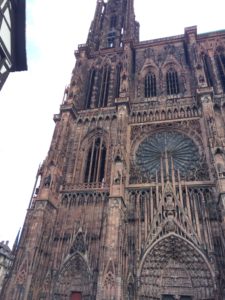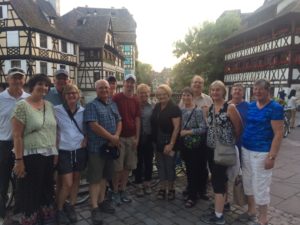 We have walked many miles together, and discussed European society, Storks (!) which are prevalent in Strasbourg and the larger Alsace region, the various movements of the Reformation, the teachings of the reformers, and we have gotten to know each other and made new friendships forged in common understandings and experience. Our skilled guide, Gunther has had a wealth of information to share. Still a few more days to go in Switzerland.