Mennonite Icons
Mennonite Icons
"Icons" seem to be omnipresent these days. But not the kind of icon I mean here. Icon literally means "image." When the Scriptures say Jesus was (or is) the image of God the father, it uses the language of icon. Jesus is the icon of the father. We see through the image, the icon, to the thing that cannot be seen. All of that may or may not be helpful. What I really want to let everyone know about it the "iconic" images (how's that for redundant?) of Mennonite founders and martyrs in the President's suite at FPU.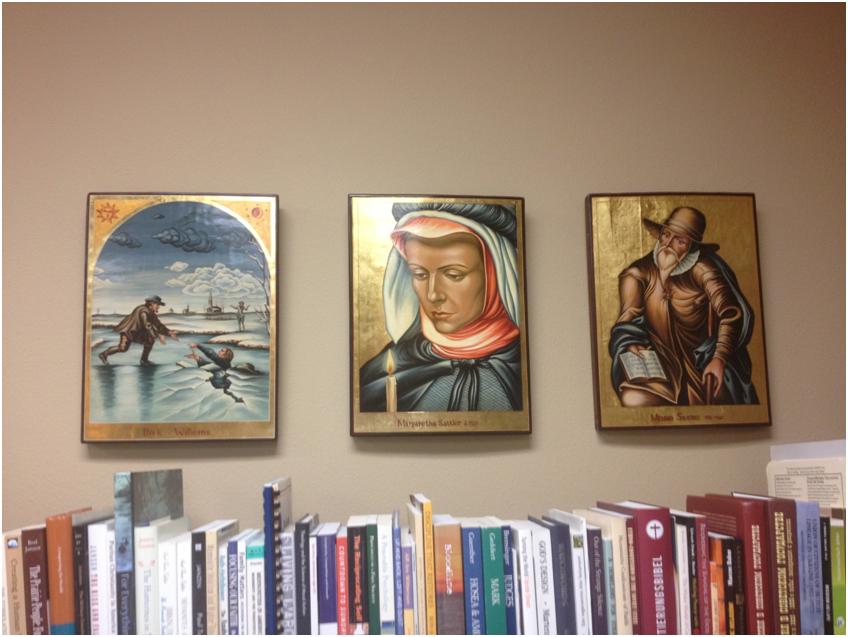 This is a unique event. "Graber Designs" in Goshen Indiana, with an art gallery and store called Found in the downtown part of the town, a "thriving artist community" as they say, commissioned these works by a Bulgarian artist and iconographer Ivan Zhabov. They follow the tradition of icon creation of the Orthodox Church, now put to use for the memory of Mennonite martyrs and one of the tradition's principal founders, Menno Simons himself. You can find Graber's explanation of the icons on their website.
It is somewhat ironic that an institution sponsored by Mennonite Churches would have anything like this, since the Anabaptist/Mennonite tradition, is, like the Reformed tradition, "aniconic," meaning without images. Our churches are generally bare of art. We hear the Word preached, but do not generally "see" what God would have for us through images. But this is the modern, some would say postmodern, global world. Old boundaries fall and sometimes shatter. Why not have a Bulgarian, Orthodox iconographer share his gifts with another wing of the church? We can learn something from each other.
The first image is of the famous episode in the life of Dirk Willems who saved his pursuer as he fled imprisonment for his faith, and was promptly rearrested and then executed. If you follow the links you will see his full story in the "Global Anabaptist Mennonite Encyclopedia Online" where you will also see the famous engraving from the Martyrs' Mirror (1660) of which the icon is a copy.
The second image is of Margaretha Sattler about whom not much is known. She was probably a former nun, or Beguine, and is known in Mennonite history as the wife of Michael Sattler, a former monk, who wrote the first Anabaptist confession of faith, The Schleitheim Confession (1527). Both Michael and Margaretha were martyrs. Among all of the Christian communions of the sixteenth century, Anabaptist/Mennonites had the highest proportion of women martyrs. Margaretha represents that women's witness in the sixteenth century, and that has continued throughout Anabaptist and Mennonite history. FPU has a building named in Michael's honor, "Sattler Hall."
Finally the third image is of Menno Simons (d. 1561) from about fifty years after his death. Menno not only gave his name to the most prominent Anabaptist movement, group of followers of Christ, or church, but he also in many ways taught those who followed him how to be an ongoing community of faith. He was a former Catholic priest, probably a good pastor even as a priest (though he claims he was not), who was hunted throughout his life as a heretic. He gave to Mennonite discipleship a phrase that for me defines it:
"For true evangelical faith is of such a nature that it cannot lie dormant, but manifests itself in all righteousness and works of love; it dies unto the flesh and blood; it destroys all forbidden lusts and desires; it seeks and serves and fears God;  it clothes the naked;  it feeds the hungry; it comforts the sorrowful; it shelters the destitute;  it aids and consoles the sad; it returns good for evil; it serves those that harm it; it prays for those that persecute it;  teaches, admonishes, and reproves with the Word of the Lord; it seeks that which is lost; it binds up that which is wounded; it heals that which is diseased and it saves that which is sound; It has becomes all things to all men."
These words are something "iconic" in the popular sense of the word today. Something that stands for, or through which we see what is true and good.
When you stop in to see the President of FPU, or one of the rest of us in the suite, take a look at these beautiful Anabaptist icons. And by the way, take a look at our faculty bookshelf—the publications of FPU professors. They are, as you can see, right below the images, Icons, pictures—works of theology, philosophy, history, literature, music, economics, to name a few.
Finally I ought to mention how FPU came to receive these pieces. They were the gift of a generous donor, Anne Wiebe. Thank you to Anne, and to all of the many faithful supporters of the work of Fresno Pacific University.
Thank you also to Professor Emeritus Paul Toews and to library Director Kevin Enns-Rempel who found these pieces for FPU, and who helped me track down information on them.