A New Year Begins
A New Year Begins
There is a lot to do to get an academic year going. Our regular/traditional semester begins next week, Aug. 29, for undergrads, graduate students and the seminary. But most of our fall Degree Completion cohorts started at the beginning of August, and Degree Completion students working on the general education and other requirements can start as individual classes begin—any time during the semester.
We are not quite done. New undergraduate students arrive this weekend for moving in to the residence halls (they are full), orientation, last-minute meetings with their mentors, etc. Seminary orientation is on Thursday. It is a busy week. I hope to have another post in a few days.
Here are some scenes from the events of the last few days. Hope you enjoy them.
First new staff and faculty orientation. We took a ride on one of the new FPU busses to our Regional Center in Bakersfield, and then up to Visalia. The goal was to experience the reach and character of how we are carrying out our mission—"excellence in Christian higher education"—throughout the Valley. We heard from faculty and students in Bakersfield, the Center staffs in both Bakersfield and Visalia, faculty scholars, and from covered necessary administrative items as well. Merrill Ewert, FPU President, spoke about our history and where we are going. I offered suggestions on how we might model our motto "faithfulness, wisdom, service." The deans of our five schools spoke about the vision and direction of their programs and faculty work. It was a good day, even if I was facing backwards in the buss for at least two of the four hours.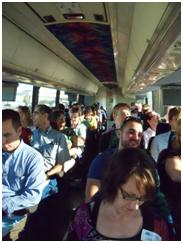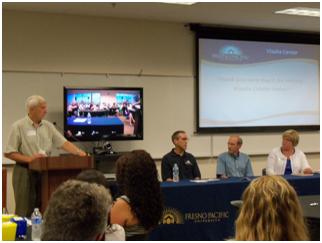 Over the weekend our Student Life team and others including University Pastor, Rev. Angulus Wilson, Merrill, faculty members, and admission staff were up at Hume Lake Christian camps with 190 of our leadership students for planning, training, and inspiration. I drove up for a few hours Sunday evening to have a meal, speak and meet with a small group. They were all in good spirits, if a little tired perhaps, but thoughtful discussion on what it means to be a Christian leader was enough to keep them going. I used Aristotle and Paul to open up the topics of virtue and imitation as tools for understanding how we learn to be leaders.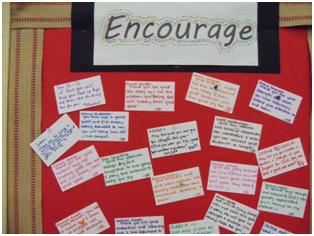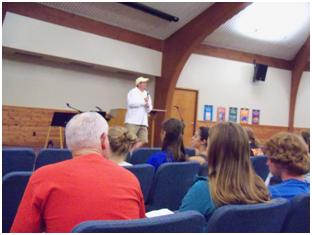 Today was a "university assembly" and faculty workday—we began with some music and worship, welcomed again new faculty and staff, heard some information on the new year, received some raffled prizes, Board Chair, John Thiesen spoke about this year of a presidential transition, and we had updates on enrollment, finances, the academic agenda, etc. Then the faculty worked on the pursuit of scholarship with our friend and consultant Dr. Jerry Berberet—a now multi-year project of professional development—and our new Dean of Humanities, Religion and Social Science, Dr. Kevin Reimer, and Student Life Dean Randy Worden (who came down early from the Sierras) teamed up over lunch to help us better understand and teach this generation of young adults (age 18-28 or so). Thoughtful discussion all morning. My mind is a bit tired and so I am blogging…hope you enjoy it.