TOMS shoes taught us something about business
TOMS shoes taught us something about business
Blake Mycoskie, founder of TOMS shoes, spent the day with us at Fresno Pacific a couple of weeks ago at our annual Business Forum. He told his story—how he founded TOMS (which stands for "tomorrow's"), how children without shoes and thus without education moved him to adopt TOMS's unique mission, and how the public has reacted. He spoke both to about 1200 business people at the Fresno Convention Center, and then to our students on campus in our College Hour (chapel). Here is Mycoskie at the Business Forum.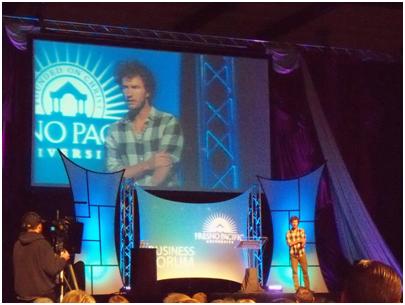 The Business Forum is one of the highlights of our year. This year especially students responded to Mycoskie's message of mixing giving with entrepreneurial creativity and drive. It was also a highlight for me, teaching as I do in the business program. In his conclusion he noted three lessons he has learned:
'Giving feels good, but it is also good for business. Your customers become your best marketers'
'Giving allowed us to attract and retain amazing employees from 'bluechip' companies, even though they were not paid enough or as much as before. Giving together has an amazing effect on culture.'
'When you incorporate giving you attract people who want to help.'
He delivered a similar message at College Hour, here with student President David White and campus pastor Rev. Angulus Wilson before he spoke. Later in College Hour about 100 students gathered around to pray for him and his business/ministry.
After the day, tired from a long trip to the US from Ethiopia where he had been distributing shoes, and from three sessions with business leaders, the business faculty and students, Mycoskie gave an interview that offered deeper insight into what has motivated and inspired him. The interview is not long—take a look. I hope the inspiration continues.