College Fairs Coming Up
College Fairs Coming Up
This week I told my colleagues in the President's Cabinet here at FPU that our year in admissions ended last week on Thursday (of the first week of the semester), we took a break on Friday, and headed out on the road on Monday.  That got  a laugh, but it wasn't quite true enough.  As the high school year starts families and students–seniors, but also juniors and sophomores–begin their searches for universities begin  in earnest.  Some took time this summer (I am writing just before Labor Day) to visit schools around the country.  Our admissions teams have been getting ready for next year's class for several months, as they finished up this year's.
For those of us working in the field, it is never dull. And we especially enjoy meeting the parents and students, both traditional aged and older (in our degree completion and grad programs) who are experiencing the excitement of beginning a new stage in their academic careers. It is an experience of hope, of looking forward to achievement and possibilities in the future.  I especially enjoy meeting the students who are in love with learning.
As the year begins here are a couple of events that are tailored for high schools students.  The first it the Fresno Area College Night, sponsored by PG&E and hosted by the Fresno County Office of Education–Sept. 8, 6-9 at the Fresno Convention Center, New Exhibit Hall.  We will have a big (I mean BIG!) presence there, along with all of the other regional schools.  Many of the independent and public universities from around the state and country will be there.  It is a good chance to talk to counselors, current students and alumni from the various schools.  There will also be sessions on Financial Aid, Scholarships, and a number of other helpful topics.  Some of the sessions will also be in Spanish and Hmong.   The Tulare County Fair is the night before, Sept. 7.  We will also be there.
The second event is the Fair we organize and host, the Central Valley regional National Christian College Fair for the  National American Coalition for Christian Admissions Professionals  (NACCAP).  Our fall event will be at Buchanan High School on Sept. 21, 6-8 pm.  This is always a great event.  All of the Christian Schools from California will be there, along with many from the West Coast and even from Midwest and East.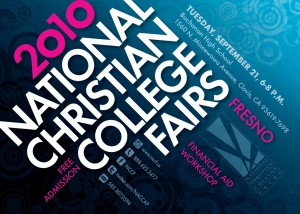 If you can't make this one, we co-host the fair in Modesto on Sept. 20 at Modesto Christian High School.
These are good ways to get all kinds of information.  You'll walk away with bags of information, and have something to go on when you begin to look at websites and make calls.  Most admissions counselors are graduates of the universities they represent.  They can speak from their personal experience.
The next step is visiting schools.  Our overnight event, "The Encounter," is coming up for high school juniors and seniors.  You can find information at http://experiencefpu.com/   For adult students we have many information meetings at our regional centers, see http://info.fresno.edu/dc-infomeetings-signup
Enjoy the searching season–it is the beginning of opportunities you many not be aware of.
2 responses to "College Fairs Coming Up"