Going to College–Dance of Joy
Going to College–Dance of Joy
Ok this one is just for fun.  My wife, who teaches kindergarten in Clovis, celebrates with her students each week when all of them turn in their homework by doing the "dance of joy."  For kindergartners it is a big thing.  Because this was the eighth time they had all done this, I was the guest of honor to celebrate with them (I was in line after the principal and other dignitaries who came in earlier weeks).  You can see the joy in their faces.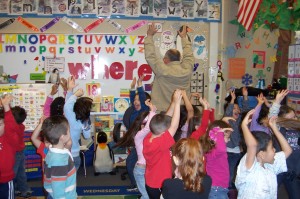 But I couldn't just leave it at that.  My wife tells me often about what here students are doing, what they are learning and their struggles.  Many of them may not come from homes where going to college is a goal or assumed.  So we turned the "dance of joy visit" into an early "plan for college day."  We know from higher education research that generally if a child does not think they are going to college by the time they are in fourth grade, chances are they will not go.  So as she explained to them that I was a college professor (not using such big words) we chanted together "we are going to college!"  And then did the dance.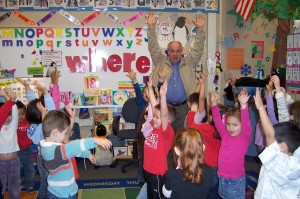 It's never too early.
4 responses to "Going to College–Dance of Joy"