Rotaract Club
Rotaract Club
Our semester has started once again.  I took a break from the blog, celebrated the birth of Christ, traveled a bit (maybe more on this later) and helped get the semester started.  Enrollment is good (definitely more on this later), and students and faculty are working away in classes, reading, writing, performing, interning, and all of the other things that make up scholarship and learning.
Today was one of my favorite beginnings–our first Rotaract meeting of the semester.  Rotaract is the college age version of Rotary International.  Rotaract clubs must be sponsored by a Rotary club, and registered with Rotary International.  Our's is sponsored by North Fresno Rotary (the club in which I am a member).  I was asked to start the club a few years ago by our then club president, Doyle Daniel, also a father of FPU alumni and one of those creative supporters who have helped to bring international students to FPU, supported them while here and encouraged them on in their lives, faith and professions.
This has been a unique year.  They club has been active and successful.  One of the goals is to raise funds and engage in active service.  "Service above self" is the Rotary motto, and Rotaract is intended to be hands on training for students who will become leaders in their communities.  This year we have raised $270 toward a $500 goal.  Doesn't seem like much?  Try to raise money on a college campus where many are working for minimum wage and partially supporting themselves, and where the faculty are hit up often for clubs, missions, special projects.
But the club has been more creative than this.  They are working on the other half of the funds needed, and have been offered matching funds by North Fresno, and our former district governor when all is complete. This will give them $1500 to donate to toward a Rotary district 5230  project in Angola which is being directed on the ground by World Vision International–one agency that all of the players, Rotary International, the Gates Foundation, and the Angolan Government  trust (all partners in the project with our Rotary district).
The donation will go to a micro-credit project in Angola, which helps families (often headed by women) to develop businesses and support themselves.  These have been remarkably successful in the developing world.  And it seems an good match for a club composed mostly of business majors.  Only $230 to go and we will celebrate.  (If anyone wants to donate, let me know. Anything is appreciated).
Here we are today at the meeting–about half of the club were there, students from Fresno, Bakersfield, the Chico area, Korea, France–a great group of students to work with.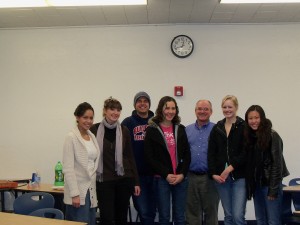 4 responses to "Rotaract Club"