A Manna Moment on The Advent of Christ
A Manna Moment on The Advent of Christ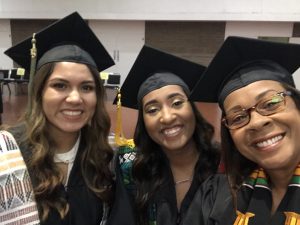 celebrating Commencement @ FPU
St. Luke 2:8-14
Now there were in the same country shepherds living out in the fields, keeping watch over their flock by night. And behold, an angel of the Lord stood before them, and said to them, "Do not be afraid, for behold, I bring you good tidings of great joy which will be to all people. For there is born to you this day in the city of David a Savior, who is Christ the Lord. And this will be the sign to you: You will find a Babe wrapped in swaddling cloths, lying in a manger. And suddenly there was with the angel a multitude of the heavenly host praising God and saying: "Glory to God in the highest, And on earth peace, goodwill toward men!"
Dr. Luke, the great physician writing this text, is writing for a gentile audience who wants to know the story of Christ and the history of his lineage—how did he get here, why did he come, and what was his purpose? Here we find that Christ himself had a heavenly escort that came before him, they were angels and they proclaimed the word of the Lord where the people of Judea, the shepherds that day, would find the living Savior.
That's why we're here today celebrating this great month, because December reminds us of the birth of Christ and why he came into the world. Scripture says that God so loved the world, that he gave his only begotten son that whosoever believes in him would not perish, but have everlasting life.
The most important thing to me about this text is that within it we see something marvelous. When the angels gave the good news to the shepherds, the angel said, 'this will be a sign to you, you will find a babe in swaddling clothes lying in a manger. And suddenly there was with the angel a multitude of the heavenly host praising God and saying: "Glory to God in the highest, And on earth peace, goodwill toward men!" The angels were declaring a promise for us today and I want to declare the same promise to you. That's my prayer for you; that in your hearts, in your mind, God would be glorified and that there would be peace and goodwill toward you today.
Let me pray for you now: Father God, thank you for this wonderful reminder of the Christmas story. Thank you for our students, our staff, our faculty and administration. Lord would you be praised this season and may there be peace and goodwill on earth toward all men. We love you and we thank you for this advent season. In Jesus' name, Amen.