Lynne Ashbeck lives what she learned at FPU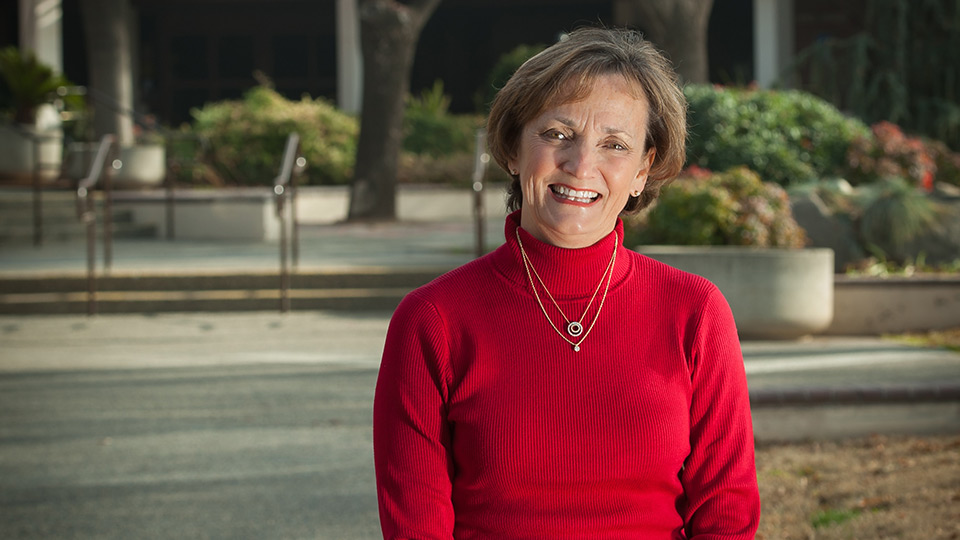 Lynne Ashbeck lives what she learned at FPU
Lynne Ashbeck
2012 M.A. in Peacemaking and Conflict Studies
Regional Vice President for the Hospital Council of Northern and Central California
Mayor of Clovis
Assistant Professor of Health Care Administration
Lynne Ashbeck is deeply connected to her community, her profession and FPU as mayor of Clovis, member of the Fresno Pacific University Board of Trustees, regional vice president for the Hospital Council of Northern and Central California and assistant professor in the B.A. in Health Care Administration at FPU. She is also an alumnus, having earned a Master of Arts in Peacemaking and Conflict Studies in May 2012.
Talk about your experience in the Master of Arts in Peacemaking and Conflict Studies program.
"I had the skills, but the peacemaking program gave me the framework. The peacemaking program was the place where it seemed that all my life and work experiences converged together. Skills like creating a place where people's voices can be heard. Listening for common ground. It changed me spiritually. I believe it made me a better person. At least I hope so."
"The peacemaking program at FPU was this amazing treasure. People came from all over the world to take the Basic Institute in Conflict Resolution—places like Russia and Canada. And here it was in our back yard!! I just started taking one or two classes a semester and in May 2012, I had a master's degree. And I loved every single minute of it. The faculty were all extraordinary."
What skills from that program have been beneficial in your career?
"I use the lessons every single day. The main lesson is solving problems by finding the common ground—the shared interests. People have more in common than they think. If someone comes to the city council and says, 'I need a stop sign at the corner of X and Y,' the answer is a yes or no—and it's rarely a yes. But if you, as the council member, say to them, 'Tell me what it is you are worried about,' they will say things like traffic is too fast and there are no signals for their kids to safely walk to school. Once you understand their interests, the options for solutions are much broader. I often say that if every elected official had training in peacemaking, we might have a different community and a different world."
You serve in so many roles. Is there a common thread to your varied work?
"The common thread is to make this community a better place. Through the Hospital Council, my role is to provide hospitals with a place they can work on issues they can share together. One example of what we have done is the three large hospitals in Fresno County have come together and funded an eight-bed respite center for homeless patients once they are ready to be discharged from the hospital. The hospitals could not do this alone, but together they could. I don't think of any of it as work—it's joyful."
Do you have a life outside of work?
"I have a fabulous supportive husband, Jeff Hensley, and together we have five children and four grandchildren. I spend time with a small group of friends. I like to exercise and take walks. And I love playing Words with Friends and doing counted cross-stitch."
What about you would surprise people?
"That I have a reclusive part to my personality. I like being quiet. That I have two speeds, on and off, and I can be really content at both speeds."
Why is the Bachelor of Arts in Health Care Administration important?
"I see hospitals struggle with many work force challenges. Healthcare has gotten more complicated. In some ways it's gotten better and other ways, far more complicated. One of the advantages of FPU is that it can respond quickly to a community's needs. And I think FPU is developing a nice niche in health care."
You taught the first class in the program.
"It was a lot of fun. And it shouldn't surprise you that I ended every class with a peacemaking lesson. In February I'll be teaching a course called Conflict Resolution in Health Care. We want the students to leave with that peacemaking resolution that's so integral to FPU."
"The health of a community speaks to both my 'day' and 'night' roles, because a healthy community starts one person…one neighborhood…one church… at a time."
By Wayne Steffen