Current Student Spotlight: Kathleen Chavoor-Bergen
Current Student Spotlight: Kathleen Chavoor-Bergen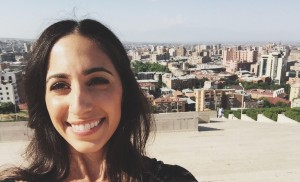 The identity and understanding of one's culture of origin cannot be ignored. It is deeply intertwined with one's sense of self on an individual, family and larger community level. The MFT program helped Kathleen to explore what it means to be a first-generation Armenian American as well as a descendant of the Armenian genocide.
Through this exploration, she made two subsequent trips to Armenia in 2014 and 2015 in hopes of understanding her roots of origin and being open to service. This June, she traveled to two small villages, Stepanavan and Vanatzor, with a team of 30 medical professionals, where they hosted a seven-day free medical clinic and saw as many as 370 patients a day. Still reeling from the effects of the 1988, Spitak earthquake (which left more than 900,000 people homeless) and post-communist/Soviet occupation, it became apparent to her that the needs of the Armenian people were much more than medical. As Kathleen sat and listened with her MFT-trained ears to the stories of patients she noticed that "hypertension, depression and anxiety were huge components to many of the diagnosis. Their description of depression often had to do with tightness of the heart and breath—whether there was an actual physical aliment or not." Particularly in the Armenian culture, duality of mind and body are important in treatment, and in many cases it is difficult to treat one without the other. Kathleen is now developing a brochure to give language to describe what depression is, its symptoms, how it affects a patient's life and suggestions to aid overall mental well-being.
Kathleen is passionate about going back to continue to provide more comprehensive care for the Armenian people. Additionally, there are 40,000 people who leave Armenia every year. She wants to continue to treat those who emigrate from Armenia as well as use her increased understanding of and sensitivity to culture to serve the people of the Central Valley.
One response to "Current Student Spotlight: Kathleen Chavoor-Bergen"