Student Scholars Engage and Innovate at Alpha Chi National Convention
Student Scholars Engage and Innovate at Alpha Chi National Convention
Pam and Marshall Johnston, the Pairadocs, had the opportunity to travel to Austin, Texas, with seven extraordinary members of FPU's Alpha Chi chapter near the end of March for the Alpha Chi National Convention. Fresno Pacific has been a part of this national college honor society for 35 years, and this was the society's 100th-anniversary convention. We'll now switch to first person!
We would have to say that the thesis of this Connections is that there's something special about Fresno Pacific University Scholars: in tying our thoughts into the five GEIST strategic goals—GROW Strategically, ENGAGE Collectively, INNOVATE Creatively, SERVE Courageously, TRANSFORM Purposefully—it's hard to ignore how thoroughly and intentionally our scholars Engage and Innovate. This year was the first time our chapter had entered a collaborative research project (the main focus is the individual presentations), and it was a thorough overview of the realities and challenges of agriculture in the Central Valley, and how innovative and interdisciplinary approaches might work to solve those problems.
The students were amazing, not only for the polish of their presentations and how well their papers fit into their panels, but also for how our scholars engaged the other panelists and taught and learned about Shakespeare, language death, taxation systems, historical social services support and approaches to healthcare, and Roman omens—yes, our coverage was that broad!
But really what we Pairadocs wanted to highlight was the dynamic that Fresno Pacific scholars created on this trip, and indeed often, in our experience. In the Fresno Pacific Idea, we say that we are a community of scholars, and our classrooms are a regular locus for that community, but it was especially a delight to take this community "on the road" as it were, and broaden our horizons (including, for at least two of our students, their first plane trip!). Though we arrived at our hotel in Austin well after midnight, everyone was happy to get up early and explore the city, and then spend time perfecting and performing papers and giving each other feedback, ideas and kudos.
At the meetings of our region, Region VII (which comprises the Western states), our students were the quickest to provide ideas to share with other schools and to comment on our own chapter's activities. They enthusiastically embraced a wide range of activities: from watching the bats fly out from the Congress Bridge at dusk (an extraordinary experience!), to celebrating successes at the plenaries, to discussing bird watching and urban planning over a meal at an interesting local restaurant. We even connected with an Outstanding Graduate alumna and member of Alpha Chi, who is at UT Law School.
When there was downtime at the convention, we noticed it was the Sunbird scholars' table that other Alpha Chi members and advisors gravitated toward. Our students could be seen playing Jenga and cornhole and enjoying each other's company—living out the balanced life. We wish you could have heard the variety of topics discussed on our walk to get Voodoo doughnuts on the last night…then hours on the hotel porch sharing ideas, even though we had to get up early for a flight. Several times other chapters' members came by, and we could tell what positive connections we had made by the way they talked about both the concepts our members had spoken on and the context of the chapters from which they came.
Through collaborative research and mutual support, the life of the mind is embodied in a community of scholars. Christian scholars care about the research, but also about the journey, the pilgrimage, that has led to it—we have never felt that description lived out as thoroughly as we did in Austin…even when an overwhelmed airport meant that we stood in the TSA line for two hours to catch our plane home. One of the national leaders of Alpha Chi said that Fresno Pacific students are her rock stars. The Evangelist Luke reminds us that to whom much is given, from them much will be expected. Expectation, met. Achievement, unlocked. Well done, good and faithful students!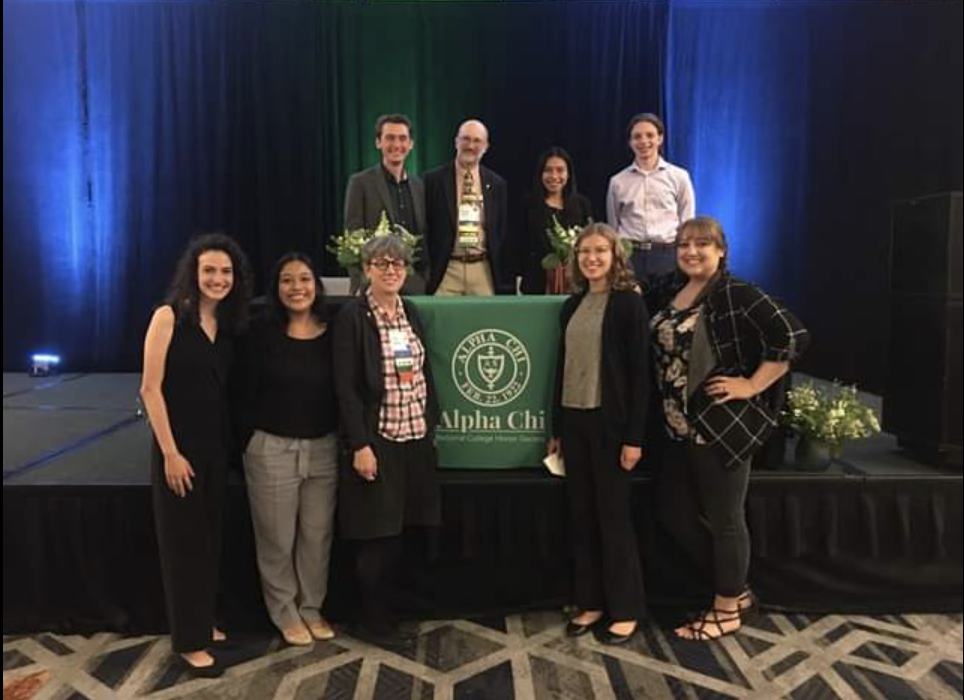 Photo: (front row, from left) Kaitlyn Doolittle, senior English major; Danya Gonzalez, junior history major; Pam Johnston; Magdalena Wenger, junior environmental studies major; and Laura Hand, senior English major. (Back row, from left) Luke Smith, junior philology/software major; W. Marshall Johnston; Veronica Mendez Garcia, senior social work/history major; and Luke Colvard, junior political science major.