State of the University 2021-2022
State of the University 2021-2022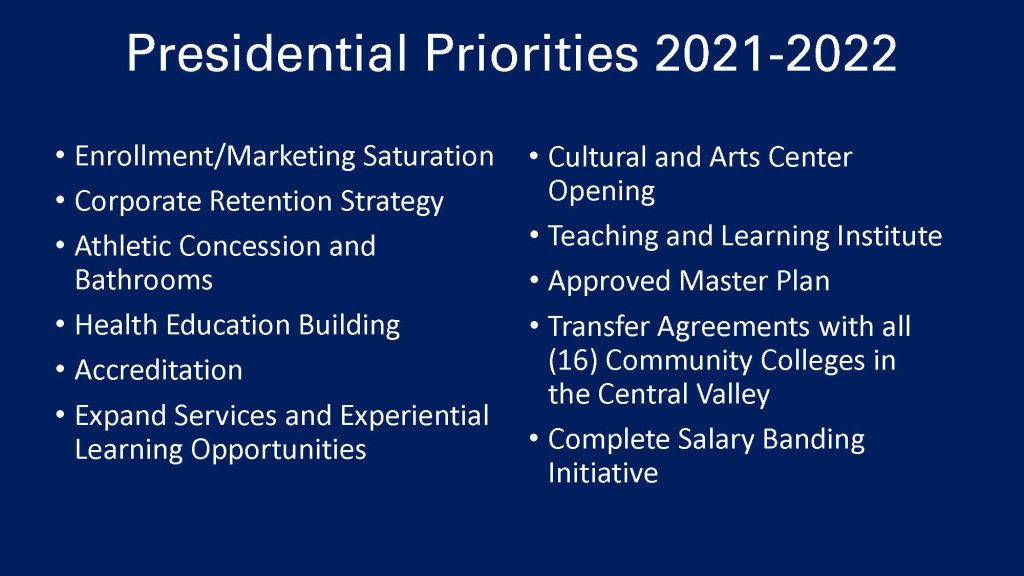 This week's Connections is based on the State of the University speech Dr. Joe presented September 15.
Let me begin by offering you a Scripture to provide context for our work this year. Joshua 1:9 is probably a verse that has come to many of you over these last 18-19 months. There have been many opportunities to fear, to be frustrated and to be angry. We have been stirred up by politics, the media, global plagues, extreme climate conditions, personal illness, economic difficulties and isolation.
Many events and people that surround us encourage complaints and criticism. Thanksgiving seems to be an oddity, But the word of the Lord never fails. He has promised to be with us. Draw close to him and he will draw close to you. But the command to Joshua, to the disciples and each one of us is the same: "Be strong and of good courage for the Lord our God is with us."
Our Strategic Map will guide my outline. In it we present five goals which we call GEIST. If you are new with us, I encourage you to read the map and frame your work around the goals. Many of you will recall that we communicated that GEIST was a crisis business plan to address the impact of COVID early in this pandemic.
Before starting our review, I want to express my appreciation for all of you who have sacrificed, stepped out to be innovative and endured to provide an enhanced learning experience for our students. Special thanks to our Emergency Management Team, the Campus Life, Athletics and IT offices and Dr. Henrietta Siemens, who walked with our faculty in transitioning 1,732 courses to virtual delivery.
Goal One: GROW Strategically –FPU is a tuition-driven institution. Planned growth is a key strategy to economic sustainability.
From December of 2020 to May 2021, we had a total of 1,073 students graduate with bachelor and master's degrees. About 324 of those December graduates participated in our virtual graduation ceremony in May.
Our new student population is down from previous years. We have averaged a little over 4,000 students over the last three years. We are starting this year with a decrease of about 400 students. We are down about 80 traditional undergraduate students, but up about 61 graduate students. Our greatest challenge has been our degree completion students who usually come to us after finishing some community college work. We are addressing the shortfall by engaging marketing consultants to assist us in re-envisioning and re-framing our messaging to three distinct populations, while re-visiting our branding identity. We are currently in the process of selecting consultants. This has to be our most aggressive year in recruiting, so I would ask you to partner with enrollment and retention staff in recruiting and retaining students.
There is some good news in the FPU Department of Athletics. We have hired a new athletic director: Mr. Morgan Walker. I commend our coaches, who recruited 127 new students, including three graduate students, giving us a total of 324 student-athletes. We launched a men's tennis team (with nine players), which gives us 16 sports teams.
Please encourage these students by taking the time to attend several of their games. Four of our teams won the PAC West Northern California Championships last year; our 4×400 relay team finished second in the national NCAA championship, and 135 of these athletes earned academic honors.
Another objective under this goal was to grow revenue through the Advancement Office. We:
Restructured and trained advancement staff with new CRM to become more efficient in working with new and current donors.
Hired a new director of the FPU Foundation – Steven Redekop, who handles our endowment.
Hired a new grants manager – Amy Lawrence, who is assisting faculty and staff to secure more grant revenue. We have $3.2M in grants awaiting outcome.
Expand marketing and branding efforts – seeking consultants.
A partnership between the Advancement Office and the School of Business School – Launched Businesses Insights.
We also had the of objective of expanding degree opportunities:
Expanded graduate education degrees in math and literacy (the reason for increase in graduate students).
Launched a new Bachelor of Science in Nursing program.
Launched a three-year degree in math, biology, chemistry and business
Expanded the Academic Success Center to assist in retention efforts.
A third objective is to build and restore athletics facilities that aid recruitment, encourage alumni loyalty and strengthen the university's image. We:
Raised funds for the concession stand and restrooms ($324,000 – only need $179,000 to complete the project).
Completed roofing and painting of the Special Events Center.
Upgraded Hiebert Library's external appearance and are looking into ways to renovate the interior to create greater use.
Three new trellises with seating, increasing usable space for students.
Finances: Based on revenue lost due to COVID and assistance needed for our students, FPU received allocations of $10,371,753 designated for student assistance. We have diligently distributed those funds, and will continue to do so this academic year. The institution has been allocated $14,479,575 in reimbursement funds available for COVID-19 related needs. Much of the cost for the changes in classroom, facilities, safety features and the loss in revenue can come from these funds. These funds assisted us in balancing the budget in the 2020-2021 school year, with a surplus for the fourth year straight. We trust that some of this surplus will buffer the projected $4-5 million shortfall we expect with lower enrollment.
We continued cost of living raises, plan extension of retirement benefits and expect some salary adjustments through the salary banding initiative.
GOAL TWO: ENGAGE Collectively – The university is committed to engaging the cultures and serving the cities throughout the Central Valley. Various faculty, staff and students have developed connections with cultural, business, educational, church and nonprofit groups.
We are building the Culture and Arts Center to expanded community engagement opportunities. We expect its completion in late spring with a soft opening, and grand opening in early fall 2022.
We appreciate how schools and divisions have reached out to partner and engage with various community entities:
Fresno Pacific Biblical Seminary partners with churches through the Thriving Congregation Grant – providing a more effective impact on their communities.
School of Education partners with school districts and community colleges through the community K-16 Collaborative – providing pathways to four-year degree institutions.
School of Business – launching professional development opportunities for regional businesses through the Business Insights program.
North Fresno Campus – hosting the Project Management Institute.
School of Natural Sciences – collaborations with California Health Science University.
School of Humanities just received a CAL Humanities grant to explore a "Day of Common Learning."
School of Education partnered with Fresno Unified School District for the African American Academic Acceleration Initiative held on the main campus.
Understanding the importance of maintaining good relations with legislators, we changed the responsibilities of Donald Norman to work with my office in government relations, which could significantly impact advocacy for Cal and Pell Grants.
GOAL THREE: INNOVATE Creatively –The integration of faith and knowledge yields wisdom. Wisdom is a source of creativity; it broadens insight and inspires resourcefulness. Faculty and staff are encouraged to imagine broadly, to create constructively and to act boldly in service to the mission. In this area we have added a new a CIO and restructured information technology to:
Complete cybersecurity assessment and training with monitoring systems.
Update IT policies.
Assist the Advancement Office with the implementation of Raiser's Edge (CRM).
Complete implementation of a new budget module in Colleague for the Business Office.
Replaced the online student application.
Implement new software to automate financial aid verification process.
Standardize HyFlex learning solutions at regional campus and in main campus classrooms.
Expand network with highspeed connections to 10 houses and 20 condos.
Install a new Help Desk Ticket system.
In the area of academics, we:
Transitioned to Online learning, virtual meetings.
Kern grant: five-year ministry degree – B.A. university/M.A. seminary program.
Planning for nursing and health care facilities – Butler and Winery.
GOAL FOUR: SERVE Courageously –FPU's missional charge is to develop students for leadership and service. Courageous service is that which follows the teachings of Jesus in loving our neighbor, even to our own discomfort. We model sacrificial service as a community and provide opportunities for all students to reach beyond their comfort zones to render service to others.
Our virtual existence over these last 19 months has hindered our ability to broaden opportunities for service and experiential learning for students. We did provide some on-campus opportunities for international students and student-athletes during the year who serve with our Campus Safety and Physical Plant offices. This is a short list of the accomplishments of our staff and the students who assisted them.
COVID-related preparation – safety and physical plant personnel worked across the university on daily cleaning and sanitizing.
ADA compliance in doorways.
Tree removal and planting new tree on the outer perimeter of the baseball field (partnership with Tree Fresno)
North Chapel converted to classroom space and updated BC Lounge.
Numerous office upgrades, classroom adaptations and painting and remodeling at regional campuses.
New boilers installed.
New furniture installed in numerous classrooms.
HVAC assessment and repairs.
Upgrades of flower beds.
GOAL FIVE: TRANSFORM Purposely –The overarching goal of Christian education is transformation. This process is not limited to the students' experience but should become part of the university's community experience at all its locations. One of our aspirations is to be known for spiritual vitality.
Over these last 18 months the Office of Spiritual Formation continued to reach out to our students, sponsoring 70 events that engaged students.
In collaboration with the regional campuses OSF has established a Regional Spiritual Care Team.
In the area of diversity, we have finalized our Diversity Plan and appointed a new executive director to serve as our chief resource and diversity officer. I am sure you have recognized the increase in opportunities for our community to celebrate in these activities. Our staff here have also reached out to the regional campuses.
We have taken this time only to mention a few of the things that are going on throughout the university. I have 10 single-space pages of these items that can be posted for any who desires to review them.
In closing, I want to encourage you to revisit our Strategic Map to assist you in setting your priorities for the remainder of the year. Each department should be working with its vice presidents, deans or directors to outline the priorities for this year. Please review President's Office Priorities at the top of this Connections. Thank you.