Inspiring conversations in the great outdoors
Inspiring conversations in the great outdoors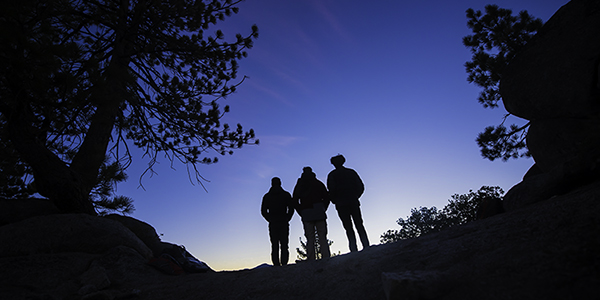 (Photo taken by Andrew Shinn)
Roughly 90 miles north on Highway 41 you will find yourself emerging from a tunnel to one of the most iconic views in our country. In the foreground on the right side of your frame beautiful Bridalveil Falls tumbles just over 600 feet, emerging from an impossible precipice. The left side is dominated by a guardian of rock respectfully called El Capitan. And in the background, the awe-inspiring outline of Half Dome is visible. The space between these renowned wonders is filled with pines, granite and a peaceful river. The parking area, behind where you are likely standing, is filled with tourists, people who have traveled from all over the world for this opportunity…the opportunity to be inspired by Yosemite Valley.
And to be sure it is an inspiring space. I have visited this place more times than I can count, and I still find inspiration whenever I come.
Over the fall break I found myself driving through the tunnel once again, feeling particularly inspired. Exiting the tunnel, we were welcomed by a still dark world, the variation of black coming only from the darker shadows outlining the granite monoliths. In a few short moments we began our hike, three faculty/staff members and nine students on a journey to catch sunrise from the top of Yosemite Falls or the summit of Eagle Peak. Another group of staff and students started two hours later from the south rim of the valley to catch the sunrise from Dewey Point.
It was incredibly cold when we started hiking but the trail is steep and within a few minutes we were shedding layers. The group splintered into small hiking units and I found myself falling into easy, honest conversation with the student in front of me. Slowly we made our way up to the top of Yosemite Falls, spending our time getting to know each other better and offering encouragement to keep going. As we neared the top it was decided that only a small group would continue all the way to the top of Eagle Peak. I said goodbye to my hiking partner, taking with me a poignant reminder of the power of perseverance as I watched this student struggle with doubting her ability to complete the hike as she continued to press forward anyway. When we both arrived back at the bottom we would celebrate her accomplishment and strength.
A short time later I was standing on the summit of Eagle Peak. Sharing the summit with three students and another faculty member! It was cold but we were rewarded with a 360°-view of Yosemite and an incredible sunrise. (Plus, we fired up stoves for some hot drinks). On our hike down we shared conversation with a few different hiking partners. One talk with a student regarding how to open doors of opportunity for all students to get into the outdoors has stuck with me. I appreciated the honesty and candor of the conversation as he wondered aloud how to remove barriers and stigmas that prevent others from venturing outside. I have mulled over these ideas and thoughts many times since that hike. A few hours later all the hikers met up in Bass Lake to share stories and pictures and lunch after their adventures to watch sunrise.
This was a fun trip and one to remember. Most importantly, however, it served as an incredible opportunity to connect with students and colleagues. Laughing, feeling frustrated, wondering how much further and standing in awe of the views were all part of the experience. But for me the take-away was the conversations and moments I got to share on the trail with others. On this journey, the inspiration came from the company I kept. I found myself with a renewed energy and excitement to invest in the people, students and colleagues, that I get to teach and learn from on campus. There was something refreshing and necessary about carving space to slow down and be present with my fellow adventurers.
As we find ourselves in the middle of a very busy season—middle of finals, heading to graduation and preparing for the holidays—I think it is a good time for each of us to reflect on the moments of inspiration that kept us going this semester. What are the stories and experiences that make us most excited to come to work at FPU each and every day?