Little Acorns…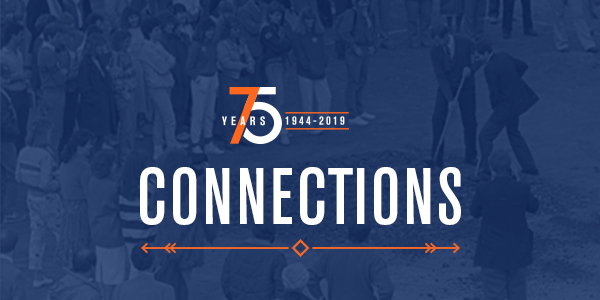 Little Acorns…
There is a familiar saying, "Mighty oaks from little acorns grow." I represent the "little acorns" era of FPU, and I wish to offer some reflections from those early college years—both personal and institutional.
I came on the scene in 1968 as a full-time Bible teacher and campus pastor. Two years earlier, while completing my seminary degree, I had the privilege of teaching part-time, classes in English Comp and German. Quickly I discovered a young, dynamic and innovative faculty led by an equally creative and visionary President Arthur J. Wiebe, Ph.D. For some 15 years this founding president shaped and developed Pacific College, enjoying the trust of the faculty and staff.
In the spring of 1975, Arthur Wiebe resigned, and the Pacific College Board of Trustees began a search for a new president—who eventually (and quite reluctantly) turned out to be me! My struggle involved the fact that I had no experience in administration, even in a small school; and that included managing a budget, fundraising, leading the college and articulating a vision for future growth. But somehow the board felt that my relational and pastoral gifts were needed at this time. So I consented to focus my energies on building bridges of trust and mending fences of good will with our Mennonite Brethren churches, pastors and other Evangelical leaders. Fortunately, the inner academic well-being and student life decision-making were in the very capable hands of Dalton Reimer, Ph.D., who among other things was a co-author of the Pacific College Idea—our governing document. After the initial year of co-leadership with him in 1975-76, the board chose to designate me as titular president. But it would be wrong to underestimate the influence of Dalton (and later, Robert Enns, Ph.D.) on our overall educational direction. Time and again, we (together with our faculty) used the Scriptural values of the PC Idea as our moral/spiritual compass. Allow me to emphasize only four such values. We agreed that:
1. We would be a Christ-centered college. That rhetoric was not all that different from other Christian colleges, but for us at that time it meant an attempt to take seriously (to live out) the values of Jesus' Sermon on the Mount. And from an Evangelical Anabaptist perspective, even a small school like ours would/should engage everyone—board, administrators, faculty, staff and student body—with the question, "Are you moving closer to Christ, our center, or are you moving away from him?" Maintaining a strong Christological center in higher education was at the heart of our mission. All else flowed from that.
2. We would be accountable to our Pacific District Conference of MB Churches. This involved close monitoring of our budgets, avoiding deficits(!), listening to our district leaders and building trust with our sponsoring churches and other supporters. Thus, when our plans for gym construction were compromised due to a bad economy, leading to the sudden withdrawal of some major donor pledges and a significant budget deficit, the district stepped in and assumed liability. A series of board chairmen (Marvin Steinert, Dr. Al Warkentine, Arthur Jost, Harold Enns) were critical liaisons in our accountability with our district.
3. We would articulate a vision for the future. We were admittedly a fragile institution, often in an immediate survival mode, but we worked hard at casting a vision for what we might yet become in the Central Valley, the state and beyond. The board urged us to "broaden the base" of our educational enterprise. We had already begun to expand our program to include a Master of Arts in Education, as well as a degree completion program. Recognizing that if we wanted to grow we would need to attract many more non-Mennonite students (as well as faculty), we chose to set measurable goals in a document entitled "Broadening the Base." We thought we were really stretching it when we set our enrollment target at 600 students! This projection included expanding the board and faculty and reaching out to other like-minded constituencies and supporters. We also initiated the President's Circle, attempting (and succeeding) in enlisting a small, annually sustaining group of major donors.
4. We would actively engage in prayer, and invite others to pray with us for the success of our mission. Pages could be written about how when we prayed, God did the impossible. When our small campus was literally land-locked, and we wanted to provide some athletic fields, tennis courts, track, etc. for our students, we approached the Senior Citizen's Village that owned the 14 adjacent acres where the ball diamond and maintenance complex now stand. We were told that another investor was in the process of buying the land in order to build more houses; he was unwilling to let us have the property. We prayed—and he softened his stance within a day or so and chose to give us preference. So we added that tract to our campus, plus five additional acres from a local Church of God. On top of that, Marvin Steinert graciously provided the finances. We experienced many such miraculous answers to prayer.
Yes, we were a "little acorn" in the '70s and '80s, but by God's grace and the administrative and personal skills of those who came after us, we have begun to see a sizable, flourishing oak tree. Should we be surprised? I think not; amazed and appreciative, yes, but not surprised. And for that God gets the glory!