Cheers for the Next President!
Cheers for the Next President!
The next president of Fresno Pacific University has been appointed. In contrast to the political tensions, conflicts and uncertainties surrounding the next President of the United States of America, the appointment of the next president of FPU has been marked by a strong consensus of support. Here is the official public announcement of the appointment of Joseph "Joe" Jones, Ph.D., and his wife, Yvette. They will formally begin their service at FPU on July 1, 2017. They thank you for the prayers that have supported the Holy Spirit-led process that called them and that culminated in this appointment. They are depending on the prayers that will carry them through the challenge of winding up their work in Pakistan, relocating to Fresno and taking on this role of servant-leadership in the work of God's kingdom. Peggi and I have quickly come to love and appreciate them. I am confident you will also. – Rich
Fresno Pacific University Board of Trustees chooses Joseph Jones as next president!
A candidate with extensive administrative, fundraising and international experience has been chosen as the next President of Fresno Pacific University.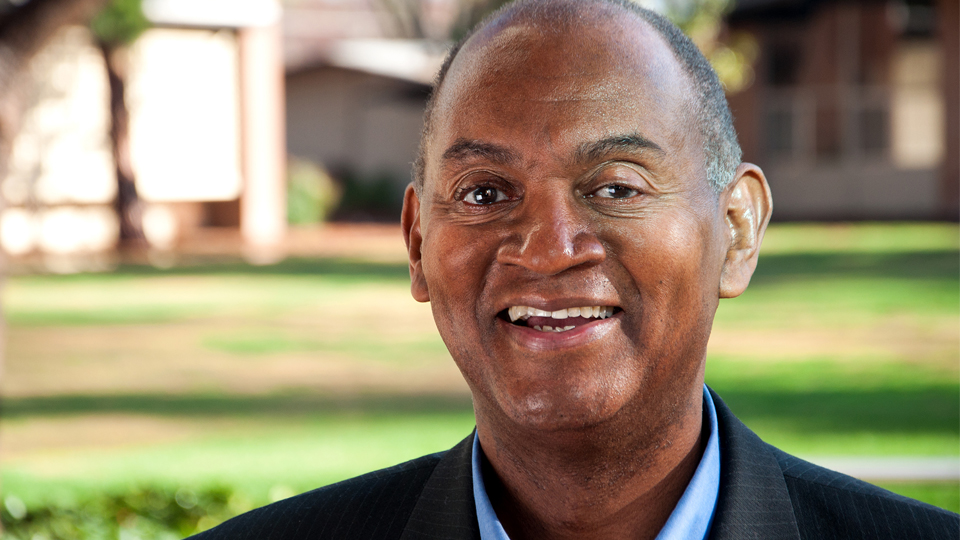 Joseph Jones, Ph.D., has served as chief administrative academic officer, dean and full-time faculty member in Christian colleges and universities in the United States and Pakistan. He will begin work in July 2017, succeeding Richard Kriegbaum, Ph.D., who started his second term as president in September 2014 after serving from 1985-1997.
"Dr. Jones has a proven record as an educator, leader and administrator with a number of outstanding Christian colleges and universities," said Donald Griffith, chair of the FPU Board of Trustees. "He brings with him a very clear vision of Christian higher education and a history of being an advocate for biblical justice, racial reconciliation, urban leadership training and intercultural learning."
Jones comes to FPU from Forman Christian College, a chartered university in Lahore, Pakistan, where he has been vice rector (provost) since 2015. In addition to being chief academic officer, his responsibilities included marketing, communication and enrollment management. Forman offers programs from kindergarten through the Ph.D. and is the third-oldest university in the country's history, with 6,347 students, 220 full-time faculty members and over 21,700 registered alumni. (More at fccollege.edu.pk/)
Prior to Forman, Jones spent more than two decades at colleges and universities in the Council for Christian Colleges & Universities, which advances the cause of Christ-centered higher education and whose members include FPU. From 2007-2014 he was provost and professor of justice and community development at North Park University, Chicago; from 2001-2007 he was academic dean of the School of Education and Social Sciences at Messiah College, Grantham, PA, where he once served on the board of trustees; from 1995-2001 he was professor and department chair at Taylor University, Fort Wayne, IN; and from 1992-1995 he was associate dean of students and assistant professor of criminal justice, sociology and social work at Roberts Wesleyan College, Rochester, NY. National involvement with the CCCU includes chairing its Chief Academic Officers Commission, serving on the International Forum Planning Committee and being part of the collaboration with World Vision International, a Christian humanitarian organization.
In his career, Jones has:
Advocated for biblical justice, racial reconciliation and diversity.
Established an integrative multicultural education model unique in Christian higher education.
Been a collaborative team builder, coach and mentor and strategic advisor.
Established a regional biblically based justice summit, Kids to College and youth entrepreneurship programs, and centers for justice and urban leadership and community research and collaborative partnerships.
Developed international partnerships in Egypt, Sweden, Norway, Denmark, China, Mexico, Ecuador, Kyrgyzstan, China, Pakistan and Korea.
The FPU Board of Trustees began the search for a new president in September 2015 and Jones was interviewed January 10-11, 2017, on the main campus. The search committee comprised 12 members, representing the university board, administration, faculty, staff and students. Leading the committee were Griffith and Xavier Piña, Ed.D., FPU board member, school district superintendent and Mennonite Brethren pastor. AGB Search, an arm of the Association of Governing Boards of Universities and Colleges, coordinated the process through its consultant Paul Corts, Ph.D., past president of two universities and the CCCU. A discernment group representing a larger cross-section of the FPU community also met with Jones. (More at fresno.edu/about/leadership/presidential-search)
FPU looks to Jones to:
Nurture its Christian identity and commitment to a distinctive education
Develop and expand fundraising and financial solidity
Foster community and diversity
Develop innovative academic programs and partnerships
Expand facilities
"Dr. Jones possesses a humble and gentle spirit while at the same time demonstrating strength of conviction and depth of character. I think he will serve Fresno Pacific University and our partners very well as we seek to continue to expand our influence throughout Central California and beyond," Griffith said.
The Central Valley's only comprehensive Christian university, FPU offers a variety of traditional undergraduate, bachelor's degree completion, master's and seminary programs on five campuses in Fresno, Merced, Visalia and Bakersfield. The university has been named one of the top 10 Hispanic Serving Institutions (HSI) nationally in graduating Hispanic students and has the region's highest overall graduation rate for all students. Affiliated with the Mennonite Brethren Church, FPU's more than 3,500 students represent over 30 denominations and traditions and about as many countries.
An ordained, licensed minister, Jones graduated with a Ph.D. in Criminal Justice with cognates in planned change and administration from the University at Albany, part of the State University of New York system. His M.S. in Psychology is from Oklahoma State University and his B.A. in Psychology is from Colby College. Jones also earned the Management and Leadership in Education Certificate from Harvard University's Institute for Higher Education. He and wife Yvette have two grown daughters and five grandchildren.
One response to "Cheers for the Next President!"