Fall is Here, How Great is That?
Fall is Here, How Great is That?
This week I'm handing over Connecting Points to Randy Worden, dean of student life. Enjoy! — Rich
I am always shocked at how fast summer goes and how quickly fall arrives. When I was younger, the beginning of the school year was something that always made me just a little bit sad. The change of seasons from summer to fall was not always easy for me and was not always something that I looked forward to. I knew I would miss the carefree days spent on my uncle's farm, I knew I would miss the almost unlimited time with friends and family, and most of all, I knew I would miss the long summer days and all that could be packed into them.
Today, sitting here knowing the FPU's fall start is just moments away, I have a radically different perspective. What makes this fall different from the ones from my childhood is FPU's place in students' lives. This fall 1,000 new students and 2,500 returning students will set aside their summer activities, pick up their text books and come to class at both Fresno Pacific University and Fresno Pacific Biblical Seminary. In classrooms from Bakersfield to Merced, students will walk in, sit down and chase their hopes and dreams. As these students walk on to our various campuses—or sit down at their own computers anywhere in North America to learn through our expanding online programs— something truly special will happen…they will encounter a faculty and staff deeply committed to the success of each student. How great is that!
With the Central Valley's highest retention and graduation rates, FPU clearly serves our students in important and significant ways. This fall, students will go to class, students will study, students will learn and most importantly, students will have the chance to discover more clearly what it is that God is calling them to. Students succeed here. Students graduate from here. Lives are forever changed because of what happens on the campuses of Fresno Pacific University. How great it that?
When I reflect on what our students experience, who they have the chance to learn from and the various ways in which they are both challenged and supported, I can't help but feel that summer is no longer my favorite season. That special place that summer once held in my heart is now occupied by fall. Fall…full of moments where eager new students, committed returning students and dedicated faculty and staff all mix together…. Fall, where everyone can once again dedicate themselves to their hopes and dreams…. Fall, where opportunities for growth and understanding abound…. Fall is truly the best time of year. Again, how great is that!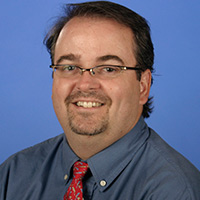 Randy Worden, D.Min.
Dean of Students
One response to "Fall is Here, How Great is That?"